"We hope the relatives of the 239 people, including 50 Malaysians, will remain strong," Pandikar Amin, speaker of the Malaysian parliament, told the audience. Prime Minister Najib Razak said that the current search operation would end later this year. "We remain hopeful that MH370 will be found in the 120,000-square-kilometer (46,332-square-mile) area under investigation," he added.
The Australia-led search for the plane, which disappeared en route to Beijing from Kuala Lumpur, has not yielded much until now. Last year, a piece of the plane was discovered by chance on the Indian Ocean island of Reunion, seemingly having washed up on shore there. Najib said this was further evidence that the plane might have crashed in the Southern Indian Ocean.
"But we know that neither the passage of time, nor this evidence, will comfort those whose grief cannot be assuaged," Najib said, adding that his country, together with Australia and China, would determine the way forward if the plane's whereabouts remained elusive.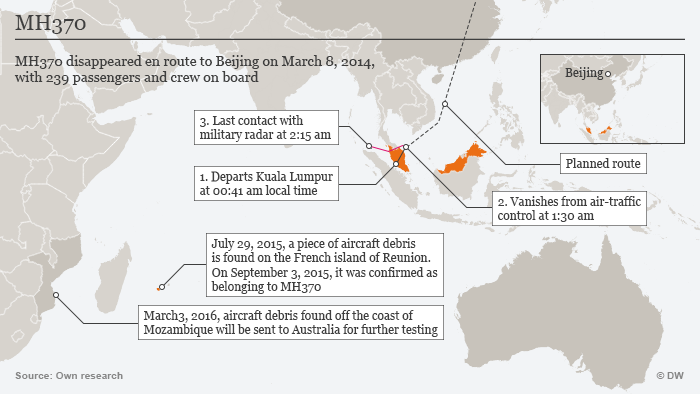 "We remain committed to doing everything within our means to solving what is an agonizing mystery for the loved ones of those who were lost," Najib told the parliament.
Frustration at the failure to locate the craft has led some families of passengers to accuse the Malaysian governemnt of witholding information on what happened and treating relatives insensitively, charges denied by the authorities.
Australian Transport Minister Darren Chester also said that the three countries remained "hopeful" and that "finding the aircraft would give answers to the world, in particular the families of missing loved ones, about what happened."
International investigators were due to release their findings later on Tuesday; global rules require annual updates in such investigations. With the second anniversary also the deadline for legal action against Malaysia Airlines, lawsuits have been filed on behalf of well over 100 next-of-kin in several countries' courts in recent days.
Flight MH370 vanished on March 8, 2014, on its way from Kuala Lumpur to Beijing carrying 239 passengers and crew. The Australia-led search is trying to retrieve the Boeing 777's black boxes, but no crash site has been determined and the countries are trying to wrap up the search within the next few months.
mg/msh (dpa, AFP)