During the evening of New Year's Eve, Lithuania began shutting down the final reactor at its Ignalina nuclear plant – the country's main source of power.
The small Baltic country was obliged to close the plant by 2010 as part of its agreement with the European Union to join the bloc.
The EU said the facility was too dangerous. The reactors were based on the same models that failed at Chernobyl in 1986, producing the world's worst-ever nuclear accident.
"As decent Europeans, we are ready to meet our obligations to close the Ignalina power plant on time, which is by the end of this day," Prime Minister Andrius Kubilius told Reuters.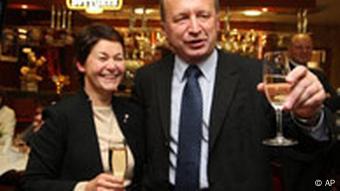 Conservative PM Kubilius wants to see Lithuania diversify its energy market.
Ignalina was the only plant with Chernobyl-style reactors still operating outside Russia. It closed its first reactor unit at the end of 2004.
Foreign dependence
But not everyone is happy with the decision to complete the shutdown. Ignalina supplies around 70 percent of Lithuania's electricity demand and accounts for about 40 percent of the country's overall production capacity.
"It's a unique case that a country disposes of a nuclear plant that generates such a huge amount...of its power output. Indeed, it's an unprecedented case," said Ignalina's director, Viktor Shevaldin.
The gap is to be filled mostly by power from the Elektrenai fossil fuel plant, as well as imports from neighboring Estonia and Latvia, but the short-fall will also mean greater dependence on gas from Russian.
This is especially controversial for some Lithuanians. Not only was their country occupied by the Soviet Union during the Cold War, but Russia has repeatedly shut off its gas pipelines in its price disputes with Ukraine in recent years.
Some, like former energy minister Leonas Asmantas, see Ignalina's closure as a betrayal of Lithuania's security.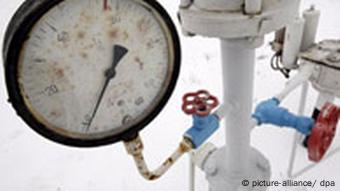 Russia is seen as an unreliable gas partner.
"It is the West that considers this power station unsafe. But it's a myth which they have created themselves. They just want to close us down. Everyone who agreed to that is a traitor," Asmantas said.
Economic blow
On the streets of Visaginas, the town that services Ignalina, ordinary Lithuanians appear to sympathize.
"This is bad for the entire country. Lithuania will fall apart," one man told Deutsche Welle.
A new nuclear plant is scheduled to be built by 2020, but in the mean time costs are expected to rise, with electricity bills anticipated to jump by about a third next year. Analysts have forecast that Ignalina's closure could also add to inflation by one percent and cost up to 1.5 points of economic growth next year.
This comes as Lithuania struggles with one of the worst recessions in the EU. The economy is expected to shrink by over 15 percent this year and up to four percent in 2010.
Despite this, Prime Minister Kubilius insists the decision to close Ignalina is a step in the right direction.
"Now we can develop a free energy market, one that will function as in Scandinavia. In a few years, joined by other Baltic nations, we will have an energy market like other countries in Europe," he said.
nw/Reuters/AP
Editor: Susan Houlton