The city of Leipzig on Monday overturned its controversial plan to try to stop anti-immigration protesters from carrying caricatures of Muhammad at a planned rally later on Monday evening.
"Freedom of opinion is a very worthy cause, and against the backdrop of the attacks in Paris it cannot be valued highly enough," mayor Burkhard Jung said after the change of plans, saying the planned ban had gone too far.
Leipzig had initially planned to ban the carrying of Muhammad caricatures, such as those published in the past by Charlie Hebdo, at the demonstration, calling this a bid to prevent any provocation at the rally.
In the aftermath of the Charlie Hebdo attacks, many German news outlets opted to reprint some of the magazine's more contentious cartoons.
Monday's march in Leipzig is billed as the inaugural demonstration of LEGIDA, a Leipzig offshoot of the anti-Islam PEGIDA movement that has held several marches around Germany in recent weeks. Members of PEGIDA, which stands for "Patriotic European against the 'Islamization of the West,'" numbered around 18,000 at a Dresden demonstration last week.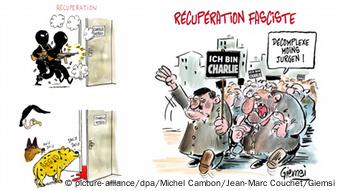 French satirists have logged their objections to PEGIDA's efforts to capitalize on the Charlie Hebdo attack
As with most PEGIDA events, a large counter-demonstration is expected in Leipzig, and several other German cities, on Monday night.
Several German politicians had urged PEGIDA to postpone its demonstrations, saying that they were in poor taste. A group of French and Francophone illustrators published a pamphlet on Sunday that was highly critical of PEGIDA; one image portrayed the group as a hyena, a wolf and a vulture, sniffing around a bloodstain labeled Charlie Hebdo.
Merkel: 'every German's chancellor'
Chancellor Angela Merkel on Monday focused on a different public display planned in Germany, saying that she would take part in a demonstration organized by Muslims living in Germany opposing Islamist terrorism and advocating peaceful coexistence of various religions.
Speaking to journalists in Berlin, Merkel recalled that former German President Christian Wulff once said that Islam was a part of Germany. "I share this opinion," Merkel said.
Tuesday's demonstration, with the motto "stand together - show your face," was scheduled to start at 6 p.m. local time (1700 GMT/UTC) at the Brandenburg Gate in Berlin.
Current President Joachim Gauck will deliver a short speech at the event; deputy chancellor and Social Democrat chairman Sigmar Gabriel would also attend, along with several other cabinet ministers, according to government spokesman Georg Streiter. Merkel called the event an important signal for the coexistence of religions.
"I am the chancellor of all Germans. That includes every one who lives here for an extended period, regardless of their background or heritage," Merkel said, adding that anybody who accepts German laws and learns the language is welcome in the country.
The Bundestag parliament's official memorial for the attacks in Paris is scheduled for Thursday; house speaker Norbert Lammert and Merkel will be among those to deliver addresses.
msh/rc (AFP, dpa)