"Russian terrorist groups have essentially violated all prior ceasefire agreements and are assuming their active offensive operations," Ukraine's National Security and Defence Council chief Oleksandr Turchynov said during a televised government meeting on Friday.
"We are talking about active units of the Russian armed forces," Turchynov added.
Fighting between the Kyiv government and pro-Moscow rebels has intensified in eastern Ukraine this month. The rebels now hold more territory than agreed by the rival sides under a ceasefire signed last September.
NATO also said it has indications that a major rebel offensive is coming, due to heavy weapons moving in from Russia.
'No peace talks'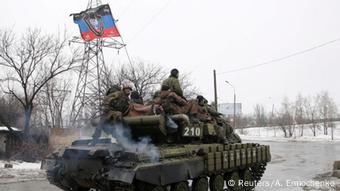 Members of the armed forces of the separatist self-proclaimed Donetsk People's Republic
Earlier on Friday, a top Ukrainian separatist leader, Alexander Zakharchenko, said he would not push for new peace talks with Kyiv and warned that his forces were launching an offensive aimed at expanding their control.
"Our side will no longer push for any more truce talks. There will be no ceasefire anymore. We are going to advance to the very border of Donetsk province," Russian news agencies quoted the Donetsk rebel chief as saying.
This week, Kyiv reported an alleged new tacit deployment of Russian troops into the war zone that enabled the insurgents to push Ukrainian troops out of a long-disputed airport in the rebel stronghold city of Donetsk.
EU might up pressure on Russia over Ukraine
Latvia's foreign minister, Edgars Rinkevics, who has a lead role in EU diplomacy, said on Friday new violence in eastern Ukraine was jeopardizing a ceasefire deal with Russia and warned the EU might look at new measures to penalize Moscow.
"If Russia does not implement or does not agree to implement those agreements, in that case I believe we will have to look at the EU level at what kind of additional pressure we can also have," Rinkevics said.
Putin blames Kyiv for fighting and deaths of civilians
Russian President Vladimir Vladimir Putin accused Kyiv for ordering a major new offensive against rebels in eastern Ukraine. He blamed on Friday what he said were Kyiv's "criminal orders" for a surge in fighting in east Ukraine in which civilians have been killed.
Furthermore, Putin claimed Ukraine had not responded to a proposal he made in a letter to President Petro Poroshenko to withdraw heavy weapons from the demarcation line as a step towards implementing ceasefire.
jil/tj (Reuters, AFP, dpa)