Gu Sub Shim, 83, together with his friends and some reporters, attentively followed the historic summit between South Korea's President Moon Jae-in and North Korean leader Kim Jong Un. He is on the board of the 40-member Association for Separated Families, a Seoul-based association for families split by the 1950-53 Korean War.
In the association's tiny office located on a side street in the South Korean capital, the old men meet over tea and engage in lengthy chats about the past. On the walls hang maps and numerous photos of the last family meetings; the faces of their loved ones are pixelated, though, for fear of persecution.
Read more: South Korea's self-appointed 'patriots' protest against rapprochement with North Korea
Shim looks longingly over and over again at the photos of his sister, brother and parents.
The octogenarian is quite satisfied with the outcome of the Moon-Kim summit. "But this can only be a beginning," he said.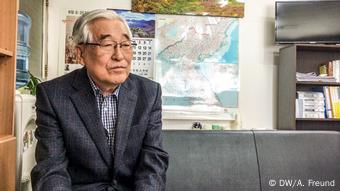 Shim said he was deeply moved when Moon and Kim embraced each other after signing the joint declaration
Like most South Koreans, Shim said he was deeply moved when Moon and Kim embraced each other after signing the joint declaration. And when the North Korean leader spoke of the "end of the war," it gave him hope, Shim said.
While explaining Korea's predicament, Shim also referred to Germany's past.
"Germans could probably best understand how painful it is to have a divided country. In Korea, there was also a war in which Koreans killed each other. And to this day, there has only been a ceasefire agreement, not a peace treaty."
Torn for 71 years
Shim comes from Hamgyong province in northeastern North Korea, not far from the Chinese border. His father was a journalist for the conservative newspaper Choson Ilbo and had to flee to the South in 1945 when the Communists invaded.
Shim followed his father two years later, but his mother and his two siblings remained behind.
For years, they heard nothing from each other, and when the war broke out in 1950 leading to the division of Korea in 1953, the last hope of living a life together under one roof evaporated.
After his father's death, Shim lived his lonely life in the South. Unexpectedly, however, he one day received a postcard from his sister, which she had somehow managed to send to the South via China. On the front side was her family portrait from childhood; on the back side, though, was the sad news that their mother had died, he said.
The mother uttered his name shortly before her death, the sister wrote.
Read more: South Korean loudspeakers silenced for good as relations with North thaw
Shim then began his efforts to establish contact with his siblings in the North. Through acquaintances in China, he managed to trace them.
Years passed and finally in 1994, 47 years after the separation, he could see his brother again for the first time, in southern China. Their meeting lasted only a few hours.
The brother is no longer alive, but Shim regularly sends aid packages to his sister via his secret contacts in China. Rarely, however, can she smuggle out a letter.
The last time they met, his sister was a 5-year old. He still remembers her jumping around on his knees, now she is also an old woman with gray hair.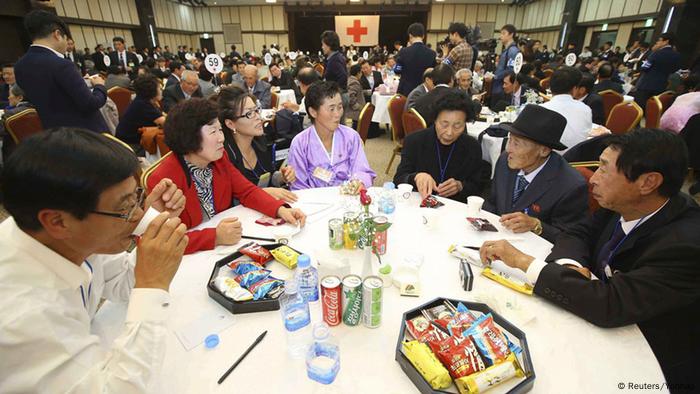 North and South Korean family members last met during the separated family reunions in North Korea in October 2015
Time is running out
At last week's meeting, Kim and Moon agreed to resume reunions of separated families. For the first time ever, a North Korean ruler mentioned the fate of the separated families.
On the symbolic date of August 15, the anniversary of the Japanese surrender following defeat in World War II, about a hundred separated family members are expected to be allowed to meet again.
For the Association for Separate Families, this is far from enough. Of the 130,000 divided family members, about half have already died and 12,000 are over 90 years old. Many are worried that they will die without seeing their separated family members ever again.
"It is essential that both sides set up a common postal system again so that letters and parcels can be sent to each other," said Shim. "A postcard would be enough to know that at least the relatives are still alive."
Moreover, it costs nothing nowadays to talk to someone anywhere in the world, he pointed out. "You can even see each other via mobile phone."
It is only between North and South Korea that such a thing is not possible, Shim lamented. The first agreed family reunion could therefore only be the beginning, he added.
Around 93,000 separated family members will now compete to be on the list of 100 persons scheduled to meet in August as part of the family reunion. "It's like winning a lottery [for those who end up on the list]," Shim said bitterly while again looking longingly at his sister's photos.