South Korea's presidential office said on Tuesday the pope would be "ardently welcomed" in Pyongyang. Blue House spokesman Kim Eui-kyeom said South Korean President Moon Jae-in would deliver an invitation from the North Korean ruler next week.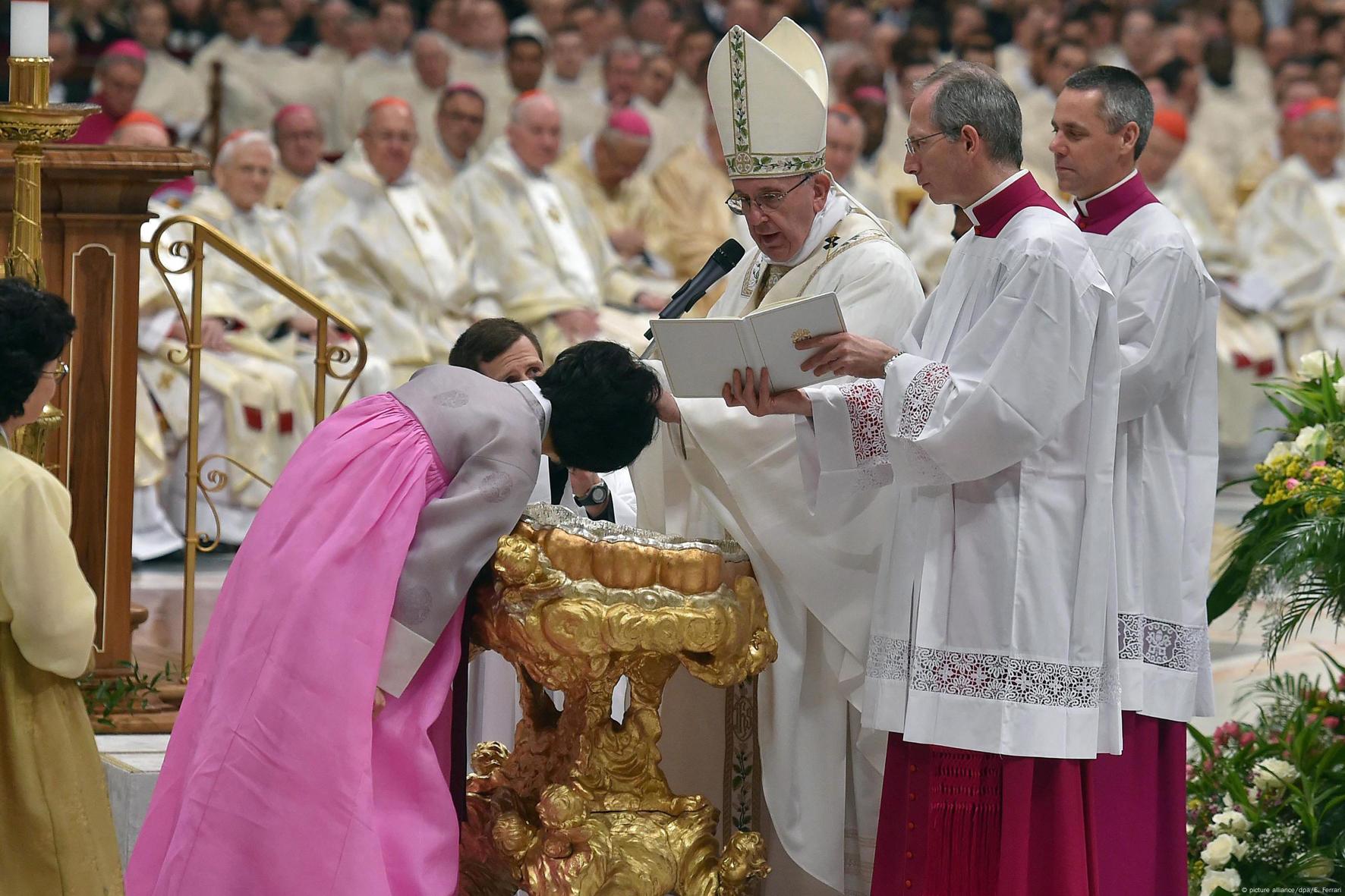 Pope Francis baptizes Stella Hee Kim of South Korea during the Easter Vigil mass at the Saint Peter's Basilica in 2016
"President Moon will visit the Vatican on October 17 and 18 to reaffirm its blessing and support for peace and stability of the Korean Peninsula," the spokesman told a news briefing on Tuesday in Seoul.
The move comes as the two Koreas move toward rapprochement, holding three summits this year, following years of confrontation over the North's nuclear missile tests.
Francis has called for peace on the peninsula after a series of North Korean missile tests exacerbated tensions in 2017.
Religious ambivalence
The North Korean constitution guarantees freedom of religion only if it does not undermine the state. Open religious activity is frowned upon.
But a thaw may be in the cards after a meeting in Pyongyang last month at which Moon was accompanied by South Korean Archbishop Hyginus Kim Hee-joong.
The last invitation to a pope was issued in 2000, but never came to fruition. Kim's father, Kim Jong Il, withdrew his invitation to Pope John Paul II after the pontiff insisted that the ruler allow Catholic priests into the country as a condition for the visit to take place.
Pyongyang once had a thriving Christian community and was known as the "Jerusalem of the East." But Kim Il Sung, the North's late founding leader, saw Christianity as a threat.
The North's regime since then has allowed Catholic organizations to run aid projects in the country, but is not in dialogue with the Vatican.
Francis visited South Korea in 2014 and held a special mass in Seoul dedicated to reunification of the two Koreas.
Some 22 percent of South Koreans identify themselves as Buddhist and almost 30 percent as Christian, according to a 2014 survey by Korea Gallup.
jbh/kms (Reuters, AFP)
Each evening at 1830 UTC, DW's editors send out a selection of the day's hard news and quality feature journalism. You can sign up to receive it directly here.