Five men stand accused of involvement in the killing of the Russian opposition leader Boris Nemtsov. The trial opens before the Moscow military district court on Monday. The proceedings are beginning later than planned because of the difficulty in finding jurors. Dozens of candidates declined to serve, citing personal reasons.
The accused are charged with murder and illicit arms trafficking. They face a minimum sentence of eight years. Nemtsov's relatives tried unsuccessfully to get the charge altered to "attempted murder of a public figure," which carries a minimum sentence of 12 years.
In the dock are five men from Chechnya. Most of them are former policemen; some of them are related. They were arrested quite soon after the murder. Russian police say that a sixth suspect took his own life as he was being arrested. Most of the accused initially confessed, but they later recanted, saying they were pressured into it. They now deny killing Nemtsov.
Who was Nemtsov?
Born in Sochi, in southern Russia, in 1959, Nemtsov was one of the most influential and experienced opposition politicians in Russia. The high point of his political career was in the 1990s, under President Boris Yeltsin. Nemtsov rose to become the deputy prime minister.
When Vladimir Putin became president in 2000, Nemtsov's influence declined. When he died, he was a co-chairman of the opposition People's Freedom Party. Nemtsov was strongly critical of Putin and repeatedly attacked the president in public - particularly after Russia annexed Ukraine's Crimea in March 2014.
According to investigators, preparations for Nemtsov's murder began in September 2014. Nemtsov, who was 55 when he was killed, is said to have been under observation for months, including in his final hours.
The accused
Nemtsov's murder took place in the heart of Moscow, a few days before a big opposition demonstration. He was walking home late in the evening of February 27, 2015, accompanied by a female friend. His route took him over the Bolshoy Moskvoretsky Bridge, right beside the Kremlin. At about 11:30 p.m., investigators say, he was overtaken on the bridge by Zaur Dadayev, the former deputy commander of a paramilitary police battalion in Russia's autonomous Chechen Republic. Dadayev is said to have shot at Nemtsov at least six times with a pistol. The politician was hit by four bullets. He died on the spot.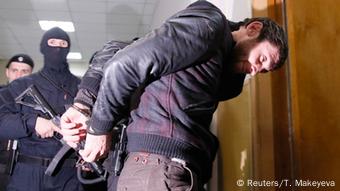 The former paramilitary Dadayev was arrested weeks after the murder, after investigators accused him of firing the fatal shots
Investigators claim that Dadayev and his accomplices were contracted by Ruslan Mukhudinov, a fellow Chechen and former police officer, to carry out the murder. Together with "other, unidentified persons," Mukhudinov is said to have promised them at least 15 million rubles for killing Nemtsov. He is now on the run, and there is an international arrest warrant out for him. His motive for the killing, however, is unclear. The case against Mukhudinov is being conducted separately and is not part of the current trial.
Vadim Prokhorov, a lawyer for Nemtsov's family, has said he does not believe that Mukhudinov could have been the sole instigator, and that it is therefore particularly important to identify other possible perpetrators and people pulling the strings. Media reports suggest that some leads point to another North Battalion commander, Ruslan Geremeyev.
Prokhorov told DW that Geremeyev could "indeed be one of those who arranged the murder." At present, however, he is only being treated as a witness.
There is speculation in Russia as to whether there are leads in the murder case that could implicate people in high positions in Chechnya. Nemtsov's family has tried and failed to have Chechen President Ramzan Kadyrov questioned as a witness. Prokhorov believes that interrogating Kadyrov would be a great help in solving the murder.