Recent statements made by the Chechen leader Ramzan Kadyrov were unacceptable in a democratic society, EU ambassador to Russia, Vygaudas Usackas, said on Tuesday.
Usackas was "shocked" by the "disgusting, overt murder threats," his office said in a statement. The diplomat also said he was hoping for a response from the Russian authorities.
In an online video, Kadyrov showed the former prime minister of Russia, Mikhail Kasyanov, in the crosshairs of a rifle. The Chechen leader added a caption saying that "Kasyanov came to Strasbourg to get money for the Russian opposition," and "Whoever did not understand, will understand," written in capitals.
Kasyanov is the chairman of the opposition People's Freedom Party, or Parnas, which he co-chaired with Kremlin critic Boris Nemtsov, who was assassinated last year in central Moscow.
The authorities have since arrested several suspects for Nemtsov's murder, all of them Chechens, including the suspected triggerman who once worked as an officer in Kadyrov's security forces.
However, Kadyrov himself has not been officially linked to the killing.
Kadyrov says he is a 'law abiding citizen'
On Monday, Kasyanov said the video was a "direct murder threat" and urged Putin to react. However, Putin's spokesman Dmitry Peskov declined comment, saying that "we don't follow Kadyrov's instagram."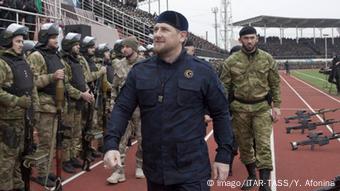 Kadyrov has described Putin's critics as a 'gang of jackals'
On Tuesday, Peskov said that the opposition leader has a "right" to await a reaction from the Kremlin, but added that he was "not about to comment" on the issue.
At the same time, Kadyrov recommended that the opposition leaders take him to court.
"If those cardboard cut-outs of 'heroes' are so terribly scared of me making fun of them, they can take the legal route," he wrote online. "I am a law abiding citizen, responsible for every single one of my words and I stand by my deep conviction."
He also called his critics "traitors" and "cheaters."
'Foot soldier' from Grozny
Kadyrov is a former commander of the anti-Russian rebels in Chechnya. He and his father switched sides in the late 1990's and the older Kadyrov was subsequently elected president of the southern Russian region.
Ramzan Kadyrov took the reins after his father was assassinated in 2004, and became a close ally of Russian President Vladimir Putin. He often describes himself as Putin's "foot soldier."
The video is only the latest escalation in the war of words between Kadyrov and the opposition.
The French city of Strasbourg hosts both the European Union parliament and the Council of Europe. Kadyrov visited the city in January together with the activist Vladimir Kara-Muza, who claims he was deliberately poisoned last year.
dj/jr (Reuters, Interfax, AFP, AP)