The US national anthem played as the Stars and Stripes was raised on the compound of the US embassy in the Cuban capital, Havana, on Friday.
In addition to Secretary of State John Kerry, the ceremony was attended by the charge d'affaires at the embassy, Jeffrey DeLaurentis, and numerous invited guests, including three marines who lowered the flag at the compound in January 1961, when the US broke off relations with Cuba at the height of the Cold War.
Speaking just prior to the ceremony, Kerry praised President Barack Obama and his Cuban counterpart, Raul Castro, for agreeing late last year to re-establish diplomatic relations between their two countries after more than five decades of mutual hostility.
In doing so, Kerry said, they had "made a courageous decision to stop being the prisoners of history and to focus on the opportunities of today and tomorrow."
Kerry, who also spoke in Spanish at the ceremony, said that despite the thaw in relations, the US would continue to push the Cuban government on human rights issues and that the Caribbean island would be best served by "genuine democracy."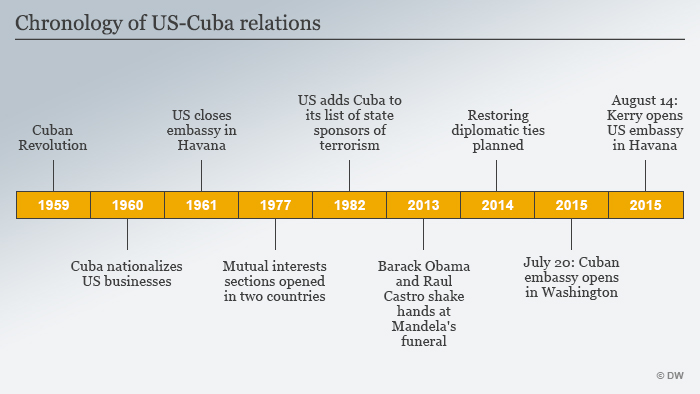 At the same time, he stressed that restoring ties would also be good for the United States.
"The establishment of normal diplomatic relations is not something that one government does as a favor to another," Kerry said. "It is something that two countries do together when the citizens of both will benefit."
Following the flag-raising ceremony, Kerry was to meet with Cuban government officials and dissidents opposed to the administration alike, as well as the head of the Catholic Church there.
He was not to meet with Raul Castro or his older brother, former President Fidel Castro, who held office from the revolution in 1959 until he stepped aside in 2006.
Ongoing disputes
Despite formally re-establishing diplomatic ties, the two countries remain at loggerheads over a number of issues, including claims by US citizens to property confiscated in the aftermath of the revolution. Cuba, on the other hand, has its own claims, with Fidel Castro writing in an essay published by state media on Thursday that Washington owed Havana "numerous millions of dollars" in damages caused by the US trade embargo.
Havana is also seeking an end to the embargo and the return of the US naval base at Guantanamo Bay.
Obama has used his executive powers to relax some US travel and trade restrictions, but the Republican-controlled House of Representatives has resisted his attempts to end the wider embargo.
Friday's flag-raising ceremony in Havana came almost a month after a similar ceremony at the Cuban embassy in Washington.
pfd/sgb (AFP, AP)
Join the conversation. Add your comment below.