"We exchanged some ideas about it [Aleppo] and we intend to connect in the morning to see where we are," Kerry told reporters in Hamburg.
Lavrov - who did not issue a statement - said before the meeting he would confirm "the support of the American proposal of December 2" at which Kerry has proposed a complete rebel withdrawal from eastern Aleppo. He also however accused Washington of backtracking and cancelling talks due to be held in Geneva this week.
"Russia says [Syrian President Bashar] al-Assad - is ready to come to the table... and I am in favor of putting that to the test," Kerry said in Brussels earlier.
Calls for a ceasefire
The US, UK and France have led a recent joint calling for an immediate ceasefire in Aleppo to allow aid into the city, an appeal backed by Canada, Germany and Italy.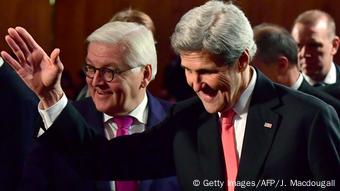 German Foreign Minister Frank-Walter Steinmeier (L) and US Secretary of State John Kerry (R) at the German foreign ministry on December 5
The Syrian government and Russia have rejected previous ceasefires for the war-torn city.
Kerry - on a farewell tour in Europe - met before the Organization for Security and Cooperation in Europe (OSCE) meeting that opens on Thursday. He is set to take part in a meeting in Paris organized by his French, German and Qatari counterparts on Saturday on Syria, the State Department said.
Proxy war
Moscow launched an air war in support of Assad's forces in 2015, while Washington has supported rebel forces against the regime. The government is also supported by Lebanon's militant group Hezbollah, Iraqi and Iranian militias, and Iran's elite Revolutionary Guards.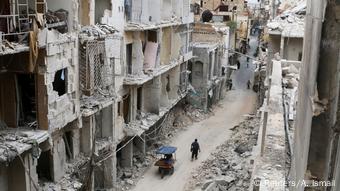 Residents walk near damaged buildings in the Old City of Aleppo
Meanwhile, Syria's government ignored a rebel ceasefire proposal for Aleppo on Wednesday as its forces captured new areas around the city center, driving about 200,000 civilians into a rapidly shrinking opposition enclave.
The UN estimated 275,000 people were still residing in the area before the start of the ground offensive.
"The decision to liberate all of Syria has been taken, and that includes Aleppo," Syrian President Bashar Assad told the state newspaper al-Watan, while Brig. Gen. Zeid al-Saleh told state TV on Wednesday that the rebels "must leave Aleppo or face death."
jbh/bw (AFP, AP)