At least four Indian soldiers were killed in a shootout with rebels in India-administered Kashmir on Monday.
The deadly clash took place in South Kashmir's Pulwama district as soldiers searched the area for militants tied to the Pakistan-based Islamist group Jaish-e-Mohammad.
Read more: Why Kashmir attack could spark a military confrontation in South Asia
Two militants and a civilian were also killed in the firefight, police said.
The militants are believed to have fled the area.
Why tensions are particularly high at the moment
Government forces launched a major manhunt and crackdown in Kashmir following last Thursday's suicide bombing that killed 41 Indian paramilitaries in the region.
India blamed the attack on regional rival Pakistan.
It was the deadliest attack on government forces in Kashmir's history and fueled huge public anger. Indian Prime Minister Narendra Modi — who will seek a second term in national elections scheduled for April-May — promised to give security forces "full freedom" to decide an appropriate response.
Pakistan has denied any connection with the bombing.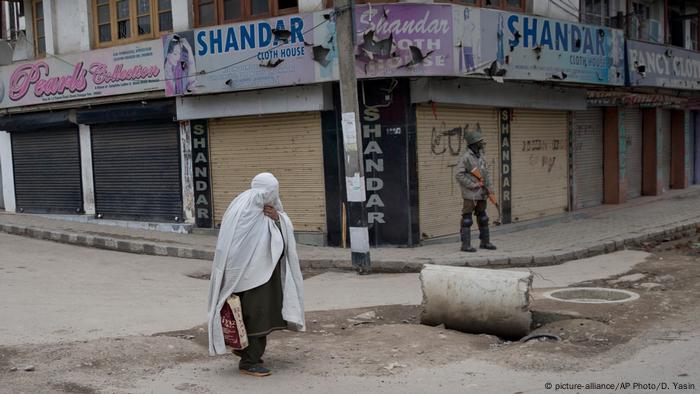 India imposed restrictions in the aftermath of last week's suicide bombing
What is the Kashmir dispute?
India and Pakistan both administer parts of Kashmir and each claims the entire region as its own. Around 70,000 people have been killed since rebels began fighting Indian rule in 1989. Unrest grew after a popular rebel leader was killed in 2016. The Indian government increasingly cracked down on rebel activity since.
cw/rt (AP, AFP, Reuters)
Every evening at 1830 UTC, DW's editors send out a selection of the day's hard news and quality feature journalism. You can sign up to receive it directly here.