Prayers of Sikh pilgrims seem to have been answered ahead of the 550th birth anniversary of their religion's founder, Guru Nanak, with the opening of the Kartarpur corridor. The project will link Dera Baba Nanak in Indian Punjab's Gurdaspur district to Kartarpur in Pakistan's Narowal district where the Gurdwara Darbar Sahib — the shrine of the revered saint — is situated.
Sikhism originates from the Punjab region, which was divided between India and Pakistan when they became independent of British rule in 1947. Sikhism's founder Guru Nanak spent the last 18 years of his life and died at Kartarpur Sahib, which is now in Pakistan.
Read more: Pakistan: Is PM Imran Khan's popularity waning?
The Sikh community has long demanded the building of a road link connecting the two sites and easing of travel permits. The corridor will facilitate the visa-free travel of Sikh pilgrims to one of the holiest shrines of their religion.
Pakistani Prime Minister Imran Khan on Wednesday performed the groundbreaking of the long-awaited corridor. The ceremony was attended by hundreds of Sikh worshippers as well as several lawmakers and high-ranking officials from both countries, including Indian ministers Hardeep Puri and Harsimrat Badal.
It came after India's Vice President Venkaiah Naidu on Monday laid the foundation stone on the Indian side of the border for the construction of the four-kilometer-long corridor.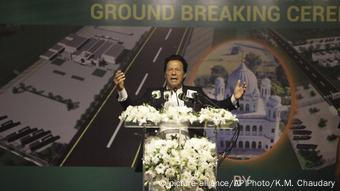 Pakistani PM Imran Khan on Wednesday performed the groundbreaking of the long-awaited corridor
"The main goal of this corridor is to facilitate the crossing of religious devotees as it is only three kilometers from the Indian side of the border. We will try to complete the construction of the Kartarpur Sahib corridor in four months." India's Transport Minister Nitin Gadkari told DW.
'A monumental step'
The laying of the foundation stone sent a wave of happiness and hope among the Sikh community, cutting across political parties and regions.
"This corridor has a lot of significance. This is where Guru Nanak established a model community and put his teachings to practice among his followers. This timely diplomatic initiative must be carried through with finesse," Roopinder Singh, a journalist at The Tribune newspaper, told DW.
"Because of the prayers of millions of Sikhs across the world, this has finally come true. I hope tensions ease, but for us this corridor is a dream come true and thousands will travel," Shiromani Gurdwara Parbandhak Committee (SGPC) chief Gobind Singh Longowal told DW. The SGPC is the apex organization in India responsible for the management of Sikh shrines.
Some felt the step would help in normalizing the strained relations between India and Pakistan that have taken a nosedive in recent years.
"We have waited too long for this to happen. It is a monumental step and could well prove to be a path of peace in the long run. I am so happy to be there for the historic occasion," Indian politician and minister in the state of Punjab Navjot Singh Sidhu told DW, before he left for Pakistan to attend the groundbreaking ceremony.
In August, Sidhu had come under fire from opposition parties in Punjab after he visited Islamabad and hugged Pakistan's Army chief General Qamar Javed Bajwa during the swearing-in of Imran Khan as prime minister of that country. Sidhu had claimed then that General Bajwa had told him about making efforts to open the Kartarpur corridor.
Leap of faith
South Asian neighbors India and Pakistan have thorny relations and have fought three wars, two of them over the disputed Kashmir region. India blames Pakistan for supporting Islamist terror attacks on India. Pakistan routinely denies Indian accusations that it supports terrorism.
Given their volatile relations, many view the opening of this corridor as a significant milestone.
Soon after his cabinet cleared the proposal to develop the corridor, Indian Prime Minister Narendra Modi expressed his hope that it could act as a bridge between the people of India and Pakistan. Referring to the fall of the Berlin Wall in 1989, Modi hoped that the corridor might lead to a better future between the two nations.
"Had anyone ever thought that the Berlin Wall would fall? May be with the blessings of Guru Nanak Dev, this Kartarpur corridor will not just remain a corridor, but act as a bridge between the peoples of the two countries," Modi said.
Read more: Pakistan honor killings haunting young women
On Wednesday, Pakistani PM Khan used the occasion to call on India to work together to overcome the bitterness of the past and resolve their issues through dialogue.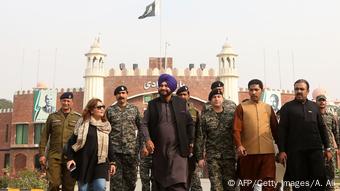 'We have waited too long for this to happen. It is a monumental step and could well prove to be a path of peace in the long run. I am so happy to be there for the historic occasion,' said Sidhu
Citing examples of Germany and France after World War II, Khan said that if two European neighbors can live peacefully, why not India and Pakistan. "France and Germany, who have fought so many wars, are now peacefully living as neighbors. They have trade ties despite killing thousands of each other's people. But one day their leaders decided that we will break their shackles and they did," Khan said.
Tensions remain
But India's Foreign Minister Sushma Swaraj on Wednesday stressed that the Kartarpur project will not lead to talks between the two countries. She also said that New Delhi will not attend the South Asian Association for Regional Cooperation (SAARC) conference if it is held in Pakistan.
"Until and unless Pakistan stops terrorist activities in India, there will be no dialogue and we will not participate in SAARC," the minister was quoted by Indian media as saying.
Pakistan has been under growing international pressure to act against terrorists operating from its soil, allegedly with support of its intelligence agencies. US President Donald Trump has often criticized Islamabad for not doing enough despite receiving aid worth billions of dollars.
The Kartarpur corridor is scheduled to open next November, on the 550th anniversary of Guru Nanak's birth and will include a stretch of road 4 kilometers (2.5 miles) long, a bridge on a river and a border complex with all facilities necessary for pilgrims.