Jaroslaw Kaczynski, leader of the ruling Law and Justice (PiS) party, said in an interview on Friday that Poland would not change course on its widely criticized judicial reforms. In late 2017, the European Commission invoked Article 7 and gave Warsaw three months to demonstrate its respect for democratic values, including independence of the judiciary.
"The program of deep changes in our country will not slow down, on the contrary — there cannot be any talk about reaching an agreement with powers that for years treated Poland as their own private loot," Kaczynski told the daily Gazeta Polska Codziennie.
Kaczynski also said in the interview that comments made by new Polish foreign minister, Jacek Czaputowicz, had been "imprecise."
Czaputowicz said the European Court of Justice was the only institution that might be entitled to decide whether EU law and standards were being respected in Poland.
"There is of course no way that Poland will relinquish a decision on judicial reform to the European Court of Justice. That is a domestic matter guaranteed by EU law," Kaczynski said.
Since Kaczynski — widely recognized as the real power behind the government — appointed Mateusz Morawiecki new prime minister in November, Warsaw had appeared to be shifting toward a more conciliatory stance in the dispute.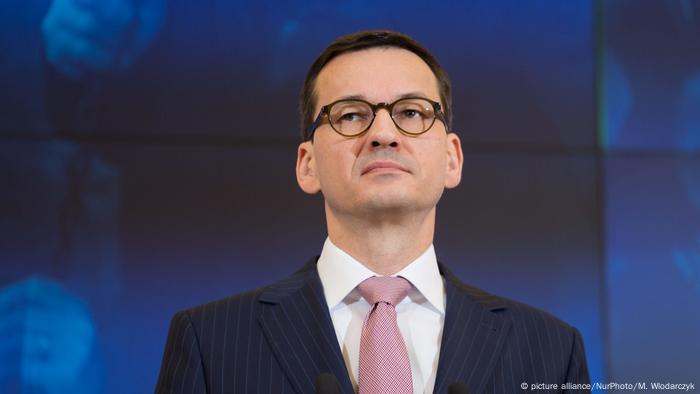 Prime Minister Mateusz Morawiecki at the press conference in Warsaw
Why Warsaw matters
The dispute is important because it potentially impacts several issues at a time when the EU is in flux.
As Europe waits for Berlin to outline a clear strategic stance on the EU, alongside French President Emmanuel Macron driving what many see as a blueprint for a two-speed Europe, Warsaw — as well as Budapest and Prague — may prove to be key opponents.
The German-backed influx of migrants from the Middle East and the proposed EU quota system for allocating a minority of them to EU states has had very few supporters in the Central and Eastern European region; Warsaw has refused to take in any refugees.
The EU's €1 trillion ($1.2 trillion) long-term budget, of which Poland is the biggest net beneficiary, is perhaps the key issue. Some in the EU want to make the development funds dependent on respect for the rule of law. If completed, the Article 7 procedure would permit the bloc to reduce of freeze funds if it desires. EU Justice Commissioner Vera Jourova said this week she had been tasked with "proposing a framework that would highlight the need to respect the rule of law" in order to benefit from European funding in the bloc's next 2021-27 budget.
The proposed reforms
The reforms are part of a wider judicial reform package that would give the government greater control over the Supreme Court and Constitutional Court.
PiS argues an overhaul is needed to clean the judicial system of its Communist past. Critics claim it is an attempt to dismantle Poland's hard-won democratic infrastructure and also to sideline potential judicial impediments to implementation of its right-wing social agenda and economic reforms.
In its decision to trigger Article 7, the European Commission cited 13 judicial reform laws that have been adopted by PiS as potentially problematic.
jbh/msh (Reuters)