The northern Jordanian town of Mafraq is just one of many destinations for the ongoing wave of Syrian refugees fleeing the violence in their home country. Though they have escaped the violence of the regime under President Bashar Assad, their daily lives in Jordan are anything but easy.
Refugees like Umm Abdal share 15 square meters (160 square feet) with her eight children, her uncle and several cousins. Mattresses line the bare room, the plastering peeling off of the walls. One single fluorescent tube gives light to the 14 men, women and children living in this sort of garage. Months ago, Abdal and her family fled from Deraa, where the uprising against Assad first took shape. They were forced to leave their butcher shop and a small poultry farm behind.
"We had a nice house, a shop and land for our chickens," the 56-year-old widow said. "My children went to school. The way we live now is not the way I imagined our life to become."
Now she has to somehow place her children in a Jordanian school. Abdal hardly has any money. Her older son spent time in prison; the scars on his arms and legs are evidence of torture with burning cigarettes. The family decided to leave Syria after their shop was regularly plundered by soldiers and their neighbors murdered. Her savings were spent bribing the Syrian border guards.
"Now we have such high rent to pay," Abdal said. "For this tiny room with a makeshift kitchen and a toilet in the courtyard, we pay 200 Dinar." That amounts to some 220 euros.
Support from aid groups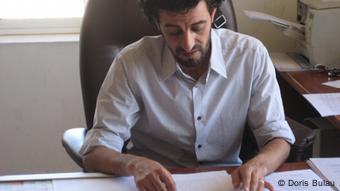 Kheirallah said Jordan's border areas are reacting differently to the refugees
Luckily, the extended family is being supported by the Kitab and Sunna charity. Based in the northern city of Irbid, the non-governmental organization distributes humanitarian aid, organizes places in schools, ensures basic medical care and tries to rent apartments. But living space is exhausted. Private households are renting out sheds, unfinished buildings without doors and windows, storerooms or barns.
Aid workers said it was a disgrace that some Jordanians were trying to take advantage of the situation so shamelessly. Arabs have to help Arabs, they said. According to Kitab, the Sunni organization is supporting some 40,000 refugees. It is calling on the wealthy oil states to help their Syrian brothers. Libya alone has already sent 14 trucks with humanitarian aid.
Feras Kheirallah, program manager from the German political foundation Friedrich-Ebert-Stiftung in Amman, said he is familiar with the problem.
"The border city of Ramtha is traditionally very closely tied to Deraa," Kheirallah said. "Practically every family has relatives on the other side. Everyone has made room for the refugees, has moved closer together and shares everything - as opposed to in Mafraq or Irbid. There, there are hardly any connections to Syria, at the most on a business level. The rents there have particularly exploded."
Growing numbers of refugees
Jordan, with a population of six million people, is reaching its limitations in dealing with its over 100,000 refugees. Twenty thousand people have illegally fled into the arid country in the last two months alone.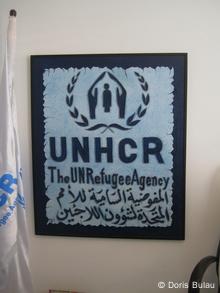 The UNHCR office in Amman has registered thousands of refugees from Syria
The UNHCR representative in Jordan Andrew Harper has seen this development first-hand. There are long lines in front of the UN Refugee Agency's building, the waiting room is filled to capacity.
"Please don't take any pictures," Harper said. "That could mean a death sentence for some. The arm of the Syrian secret service is long."
According to UNHCR, April marked the largest single month for Syrian refugee registrations in Jordan. The UN agency registered some 10,000 refugees - more than twice the number recorded by the agency between March 2011 and February 2012. Harper said he is placing his hopes on donor nations. To date, the United States have promised $40 million (31 million euros) in aid.
"The case that so many refugees flee to Jordan is not lastly due to the fact that it is much easier for Syrians here than in Turkey," Harper said. "There are no language difficulties and culturally and in terms of family structures, they are also neighbors."
The search for living space
Jordanian businesspeople are hard hit in the border region in particular - by both the limitations on their business ties to the neighboring country as well as by smuggling. Harper therefore wants to create incentives for villages in northern Jordan to tolerate the refugees anyway.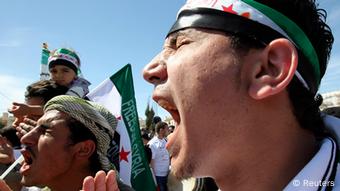 Syrian refugees in Amman have regularly protested against President Assad
"If a village is willing to take in 100 families, one could provide an additional water tank and organize better waste disposal and power supply," he said. "When the refugees then return home to Syria, this all belongs to the village." Kheirallah said he could imagine even more.
"There is a lot of affordable living space in Amman, significantly less expensive than in the north," Kheirallah said. "The infrastructure is also better in the capital." But he is aware of the reservations.
"Refugees want to remain close to their home country and wait there for more stable conditions." On the other hand, the number of refugees is increasing daily, as "a change for the better is still very far off," Kheirallah added.
Jordan deserves recognition
Kheirallah said both the Syrians and their Jordanian hosts have displayed great patience and discipline. After all, Jordan has its own problems as well.
"The government is unstable, there are protests every Friday, the internal conflict between Jordanians and Palestinians is unresolved, the relationship to Israel is frosty - and now this humanitarian problem adds to all this," Kheirallah said. UNHCR's Harper agreed.
"This small country with no resources achieves a great deal and the world has to recognize and support this," Harper said. "Jordan first had the Palestinian refugees, then the Iraqis and now the Syrians. The country cannot be left to its own devices."
Author: Doris Bulau / sac
Editor: Rob Mudge