Singer, songwriter, actress, model, style icon and humanitarian: Jane Mallory Birkin is all that. The inimitable British-born pop icon now turns 75, on December 14.
Mention Jane Birkin and chances are two episodes of her storied life spring to mind: a sexually suggestive song and an iconic handbag.
Banned by the Vatican and the BBC
The song in question is "Je T'aime... Moi Non Plus," (French for "I love you…me neither"), which Birkin had recorded with her then boyfriend Serge Gainsbourg in 1968, months after they met on the set of the film "Slogan."
Featuring heavy panting and breathy sweet nothings in French and set against cheesy organ music, the song was banned in several countries and denounced by the Vatican for its suggestive content when it was released in 1969. Despite being banned by the BBC, it also became the first foreign-language single to reach Number 1 on the UK charts.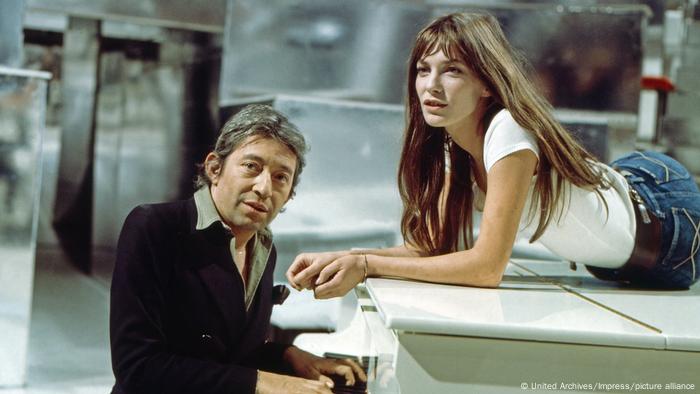 Gainsbourg and Birkin seen here performing on ZDF's 'Liedercircus' music show in 1977
Gainsbourg, a musician who'd already gained notoriety for his provocative works in his native France, had originally written and recorded the song with his previous lover, sex symbol Brigitte Bardot. However, when news leaked of their project, it incensed Bardot's then husband, German businessman Gunter Sachs, and ended with Bardot begging Gainsbourg not to release it.
Enjoying the notoriety
Gainsbourg then spent two years looking for another willing female to rerecord it with him. Birkin obliged, and the duo gained instant infamy.
In a 2004 interview with The Independent, Birkin referred to herself as "the woman who did the rude song."
"It's all the British seem to remember me for, which is curious when you consider that I've done so much more since. But there you go. Actually I rather like the notoriety," she had joked.
Birkin and Gainsbourg were a couple for 12 years and had a daughter, Charlotte — who also became an actress and singer-songwriter. They remained friends even after parting ways; Gainsbourg continued writing songs for Birkin until his death in 1991.
A different kind of arm candy
As for that handbag that bears Birkin's name, its genesis is now part of fashion lore.
In fact Birkin, who'd long been a style icon in France, was known for accessorizing both her casual and red carpet outfits with a large wicker basket.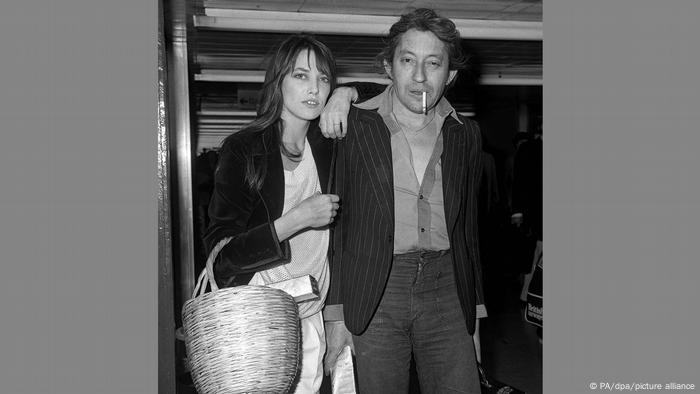 Birkin and her wicker basket were inseparable — until Hermes created a namesake handbag for her
In 1981, Birkin was seated on a flight next to the late Jean-Louise Dumas, the then Chief Executive of French luxury label Hermes. Birkin had been trying to fit her basket into the overhead compartment, when its lid came off spilling all its contents on the aisle.
Dumas suggested she find a bag with pockets, to which Birkin famously lamented that she had yet to find a handbag roomy enough to store all a woman's belongings. This prompted Dumas to sketch a prototype on an airsickness bag, and thus the iconic "Birkin" was born.
Over the years, the Birkin bag earned its reputation as a status symbol, not least because of its eye-watering prices — currently starting at $11,000 (€9,750) for regular leather.
The waiting lists to obtain one also became legendary, particularly through an episode of the hit series "Sex and the City," where Samantha tried to wangle one of the exclusive handmade specimens, after being told it might take five years to get one.
In 2015, Birkin asked Hermes to drop her name from the bag after animal rights group People for the Ethical Treatment of Animals (PETA) alerted her to the cruel farming practices of crocodiles for their leather. She later relented after Hermes investigated the practices and found them to be an "isolated irregularity."
In fact, one of the most expensive handbags ever sold at an auction — the Diamond Himalaya Birkin — was made of Niloticus crocodile skin. Sold in 2017 for close to $400,000 (€353,000), the skin was dyed in a white and grey gradient, evoking the snow-capped peaks of the Himalaya Mountains.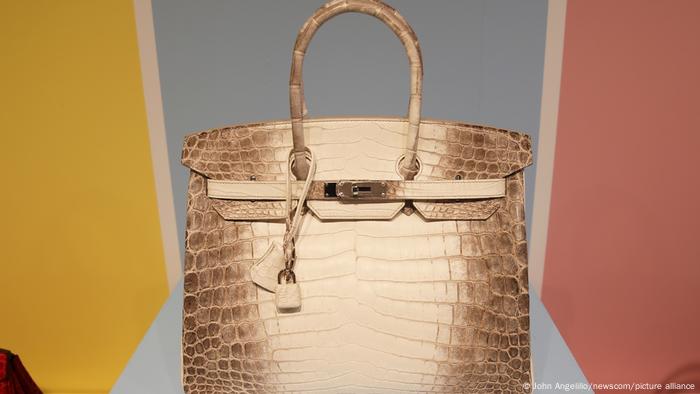 The rare white Himalaya niloticus crocodile Birkin
Birkin meanwhile has cleverly ensured that her name isn't used in vain.
"I got Hermes to fork out for my charities once I saw the fortune they were making," she told Women's Wear Daily in 2011. "A certain amount of money every year goes straight to my charity, and it will continue to after my death," said the style icon who has auctioned several of her own namesake bags for various charitable causes, including for the Japanese Red Cross after the tsunami and earthquake of 2011.
"So, that rather trivial piece of heavy luggage has done a lot of good in the world," Birkin said.
2021: An album, a documentary and recovering from a stroke
While she also pursued her acting career, Birkin kept singing Gainsbourg songs and also collaborated with diverse artists, including Bryan Ferry, Rufus Wainwright, Manu Chao and Kate Bush.
In February this year, she added another album to her lengthy discography, titled "Oh! Pardon tu dormais…" (Oh! Sorry you were sleeping…). Partly inspired by her theatrical play of the same name, she penned the lyrics for the album's 13 tracks — including one written in memory of her late oldest daughter, photographer Kate Barry, who died in 2013.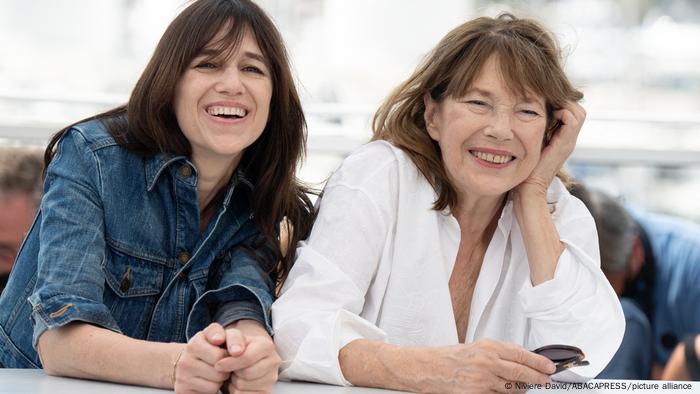 Birkin (right) and her daughter Charlotte Gainsbourg, who directed a personal film on her mother, 'Jane By Charlotte'
The septuagenarian went on promotional tours, but then suffered a minor stroke in September. She was forced to cancel an appearance at the American Film Festival in Deauville, France to promote a documentary on her life, titled "Jane by Charlotte," directed by her second daughter, Charlotte Gainsbourg. All remaining 2021 engagements were also canceled so that she could recuperate.
But Birkin, who turns 75 on December 14, has since recovered and plans to resume her tour in France in January 2022, her manager Olivier Gluzman told press agency AFP in November. A world tour is also planned in June next year.
Edited by: Elizabeth Grenier