Under a gray and rainy sky, Palestinian Christians and visitors from all over the world gathered in Jerusalem for the Old City's traditional Good Friday procession, which departs on the Via Dolorosa and retraces the route that Jesus is believed to have taken to his Crucifixion. The path goes through the Old City and ends at the Holy Sepulchre, where Jesus is believed to have been buried. "We are Christians from India, and it is very hard to comprehend that Jesus, the Son of God, touched earth," said one of the visitors, a woman named Iola. "And these were the places where his feet touched and he walked, and actually to be there, on the day of his Crucifixion, it is very moving."
Read more: Netanyahu again faces Israeli police in corruption probe
This year, the Jewish Passover holiday also begins on Good Friday and runs for a week. Security is tight, with Israeli police and border guards posted every few meters along the route. Palestinian residents of Jerusalem tried to go about their daily lives, as did Muslim worshippers on their way to Friday's noon prayers. Even some of the visitors were frustrated by the closures of certain streets. But most patiently took in the atmosphere. "We want to get the whole Holy Land experience: We want to experience where Jesus walked," said Amanda Cummings, an American who lives in Germany. "It is very different here culturally, the way they celebrate Easter, but it is very nice and a much bigger celebration."
Read more: Palestinian teenager who slapped Israeli soldier to serve 8 months in jail
Missing this year are Palestinians from the Gaza Strip, home to about 1,000 Christians, most of them members of the Greek Orthodox Church. Shortly before the start of Easter celebrations, they were still waiting for permits to leave the Hamas-ruled Gaza Strip to celebrate Easter in Jerusalem or the West Bank. Gaza is tightly closed off by Israel, and people's movement is severely restricted for security reasons. "Somehow we are still waiting, although it doesn't look as if we get a permit this time," said Mazen, a Christian who spoke on the condition that his real name not be used because he still hoped to receive a permit in time for next week's Orthodox Easter celebrations, when more Christians from all over the world are expected to attend the ceremony of the Holy Fire in Jerusalem's Church of the Holy Sepulchre.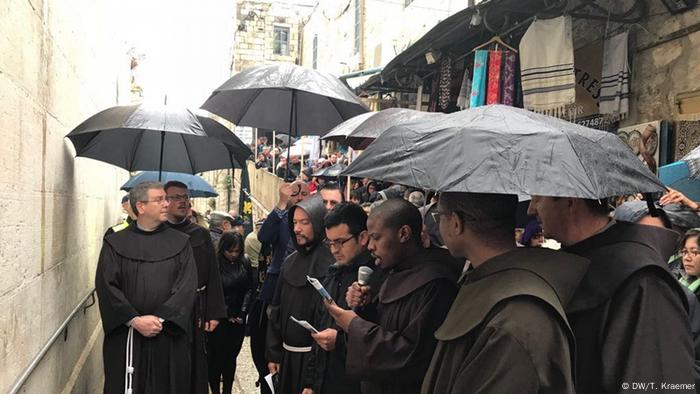 Christians who could attend commemorated the Crucifixion of their savior in the rain
'A sovereign state'
For many Christians in Gaza, Easter is a time to visit relatives who live in Jerusalem or in the occupied West Bank, as Israel usually eases the travel restrictions for that period of time. "My daughter lives an hour away from us, in the West Bank," said a woman who declined to give her name. "One needs to apply for a permit from the Israeli authorities to exit, and wanting to see each other just for the sake of it is not a reason to receive a permit."
Read more: Gaza resident finds ancient graves in vegetable plot
The woman's husband held a mobile phone in his hand, and their daughter, who was following the conversation via Skype, added: "I really hope they get a permit this year so we can celebrate Easter together like any other family." Previously permitted to leave, the young woman had stayed in the West Bank and gotten married; Israeli authorities consider her to be residing there "illegally."
Read more: Israel's Netanyahu urges end to UN Palestinian refugee agency
In March, Israel's Coordinator of Government Activities in the Territories, the civil-military authority that is responsible for Gaza and the West Bank, announced that it would not allow any exits unless Palestinians who had previously overstayed their permits to travel returned to Gaza. "Israel is a sovereign state, and it has the right to decide who will enter its gates," a COGAT spokesperson said in a statement, adding that the country promotes freedom of worship.
Read more: Opinion: Jerusalem's declaration of pretendence
For residents denied travel, however, the situation is not so cut-and-dried. "As a young person, Gaza has nothing to offer," the woman's father said. "They don't find jobs. They don't feel they have a future here anymore. It is difficult." One in two people younger than 30 cannot find jobs, and overall unemployment is nearly as high, at over 42 percent. In addition, it is also difficult to find suitable partners in the ever-shrinking Christian community in Gaza. And many simply think that family celebrations and worship should not require a permit. "We don't ask to stay in Israel," the man said. "We want to visit Bethlehem or Ramallah, the West Bank. We want to celebrate Easter. And still we need to ask for a permit."
Earlier this week, the authorities said they would allow Christians aged 55 and older to enter Israel. On Friday, there were reports that children younger than 16 might be permitted to travel as well, but by the end of the day it remained unclear how many Christians had been allowed to leave the Gaza Strip to celebrate Easter with their brethren.
"It is sad," said Wadie Abunassar, an official with the Catholic Church in Jerusalem. "We are families, which can't be separated. These feasts are not a honeymoon: These feasts are an occasion for families to celebrate together."
Every evening at 1830 UTC, DW's editors send out a selection of the day's news and features. You can sign up to receive it here.