Damascus-based Palestinian official Khaled Abdul-Majid said that Palestinian factions have forced "Islamic State" (IS) fighters to retreat from some positions in Yarmouk camp.
The Palestinian faction Akhnar Beit al-Maqdis and fighters loyal to the Syrian regime pushed back IS fighters and took control of al-Riji in the northern part of the camp.
"Al-Riji is an important area of the camp, which the regime wanted to control," Abut Hashim, who heads a Palestinian refugee committee in the Syrian opposition, said.
Fighting inside Yarmouk on the southern edge of Damascus was fierce on Wednesday, he added, but couldn't give any information about causalities.
Intense fighting still going on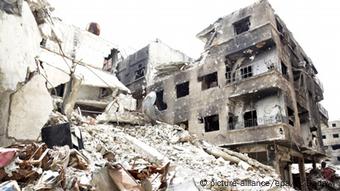 According to the Syrian Observatory for Human Rights monitoring group, there are still intense clashes going on in the camp.
Sami Hamzawi, a Palestinian activist from the camp who currently lives outside Syria, also said the Hamas-linked Akhnar Beit al-Maqdis group has captured several buildings and is advancing in the northeast area of Yarmouk.
The sources said hundreds of IS fighters returned to their stronghold in neighboring Hajar al-Aswad, from where they launched their offensive two weeks ago.
"Because of pressures by the Palestinian factions on Daesh (Arabic acronym for IS) fighters, they were forced to retreat from some posts," Abdul-Majid, a Palestinian official, told the Associated Press.
'The deepest circle of hell'
The withdrawal from Yarmouk leaves the al Qaeda-linked Nusra Front as the main group inside the camp.
"They and Nusra are one. They are changing positions," resident Anwar Abdul Hadi said.
Islamic State fighters overran much of Yarmouk earlier this month, marking its deepest incursion into the Syrian capital yet.
Before the IS arrival, Yarmouk was home to 160,000 Palestinians, refugees from the 1948 Arab-Israeli war.
The United Nations expressed extreme concerns about the safety of the Palestinian and Syrian civilians trapped inside the camp. UN officials have described the situation in Yarmouk as "the deepest circle of hell."
jil/msh (AP, Reuters, dpa)