Historically, Brazil has had such an abundance of potable water that it earned the nickname "the Saudi Arabia of water."
And the Guarani aquifer seems to be testament to that, with its 30,000 cubic kilometers of underground freshwater, spread out over some 1.2 million square kilometers in Uruguay, Paraguay, Argentina and especially Brazil.
But that abundance could be more finite than many people realize. In 2015, when a severe drought struck São Paulo, South America's most populous city, Brazilian scientists began to draw links between climate change and diminishing water resources.
"What happens in the aquifer depends very directly on precipitation and the distribution of water in the atmosphere," Edson Cezar Wendland, a researcher at the University of São Paulo, told DW. Wendland has studied the Guarani aquifer for more than a decade.
For São Paulo state, where already-dry geographic conditions mean that water supplies are vulnerable, the Guarani aquifer plays a modest role among the state's water supplies.
However, researchers are concerned that the aquifer's waters are diminishing, and warn that a shortage of studies on its interactions with other water systems could have bigger consequences.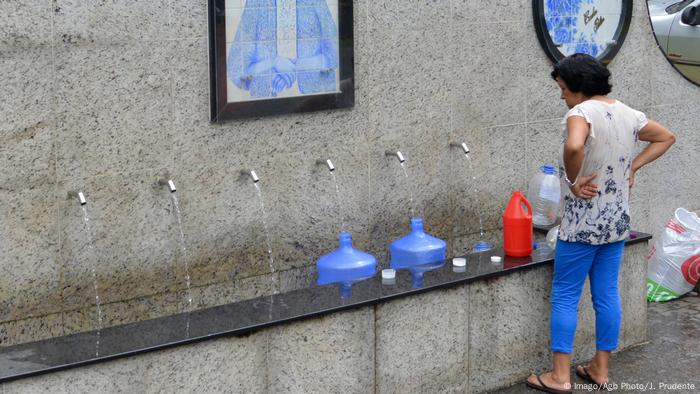 A 2009 study found 2000 boreholes tapping into the aquifer. Many of them provide drinking water to the densely populated city
"We have serious problems all over the world in relation to water, and Brazil is no different," said Maru Whately, co-founder of Brazilian watchdog Alliance for Waters.
Read more: World Water Council's Braga: Water crises could be coming to your backyard
Although the Guarani aquifer is protected by strict environmental laws, a 2009 World Bank and Organization of American States (OAS) joint study found some 2,000 boreholes that tapped into the aquifer, three quarters of them supplying drinking water to São Paulo.
A thirsty city
From North Africa to the United States, there are many known cases where aquifers are being drained more quickly than they can replenish.
Brazil is no different. The depletion of the Guarani aquifer has already taken its toll in some areas.
Read more: Brazil's Doce River still foul eight months after dam collapse
In São Carlos, a district in São Paulo state, a dry spell in 2013 led to the aquifer's groundwater being used to irrigate notoriously water-guzzling eucalyptus crops. Researchers later found that the water levels in the aquifer's wells had dropped 50 percent, to the lowest level in a decade.
Wendland says while this could theoretically happen to the Guarani aquifer as a whole if extraction is not carefully controlled, further research is necessary to calculate sustainable rates of water extraction.
Selling off the precious resource?
Given strong indications that the water of the Guarani aquifer is already being overexploited, environmentalists were alarmed to hear that both Brazil's president Michel Temer and Nestlé board chair Paul Bulcke attended the World Economic Forum in Davos earlier this year.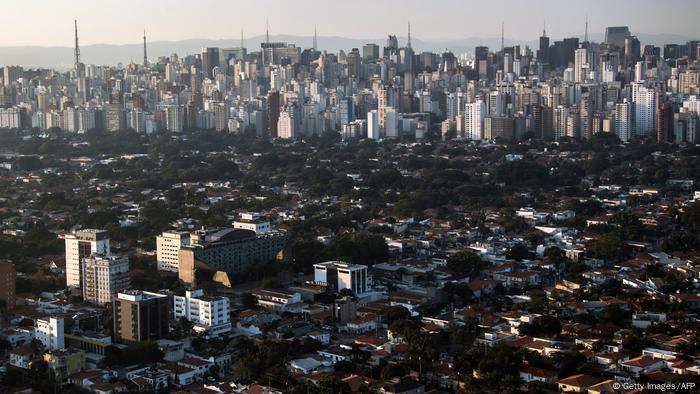 With over 12 million residents, São Paulo is the most populous city in Brazil
They are concerned that Temer, whose government currently has more than 200 privatization projects in progress at city, state and federal government levels — and who last year attempted to pass a decree opening an area of the Amazon rich in minerals including copper, gold and iron ore to private companies — may be gearing up to sell the aquifer, or parts of it, to Nestlé.
Read more:Restoring India's depleting rivers – an uphill task
After Davos, rumors to that effect were rife. For its part, the food and beverage giant has repeatedly denied the suggestions, saying it "does not extract water from any part of the Guarani Aquifer in South America, including in Brazil," and has no plans to do so.
Anti-privatization protests
This statement, however, has done little to quell fears across the country. So little in fact, that last month approximately 400 women protested by occupying Nestlé's factory in São Lourenço.
Edson Aparecida da Silva, national coordinator for the Alternative World Water Forum (FAMA), agrees that the rumours cannot be entirely dismissed.
Read more: Vital lakes disappearing around the world
"It's clear that a government like the current administration will spare no effort to enable those with capital to control water, whether subterranean or superficial."
For Whately, the size of the Guarani aquifer means it plays a critical role in hydric ecosystems in various parts of Brazil, and could also provide valuable contributions in the future.
"It's different to other freshwater sources, because it's far more protected from climate change and pollution than ground-level waters," she said. "Aquifers constitute future water sources, so protecting it should be a priority today."