The full force of US sanctions was reimposed Monday in an attempt to isolate Iran's leadership and force a change by crippling the economy. Iran had been experiencing a series of domestic crises even before the United States announced in May that it was leaving the landmark 2015 nuclear deal and reinstating sanctions.
Corruption is rampant, resulting from a black market that grew under previous sanctions, along with public unrest due to rising unemployment and uncontrolled inflation that makes basic goods more expensive.
In May, Washington set two deadlines for countries to stop doing business with Iranian entities before facing penalties. The first deadline in August cut off Iranian businesses from using the US dollar. The remaining sanctions intend to cripple Iran's oil sector, the country's economic lifeblood, while targeting the banking and finance sectors.
Read more: US sanctions: Iran vows to sell oil, resist US 'economic war'
Iran's currency, the rial, has reportedly lost over two-thirds of its value since May and oil exports in the same period have dropped from 2.8 million barrels to 1.8 million barrels. A weaker rial means that basic goods and medicines have become more expensive along with luxury goods and consumer items. New sanctions will make it more difficult or impossible for Iranians to access these items.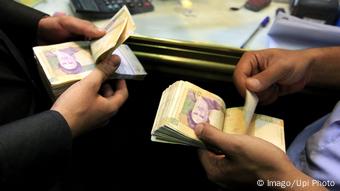 The value of Iran's rial has dropped two-thirds against the US dollar
Economic chaos
"The psychological impact of sanctions began months ago," Iraj Jamshidi, a Tehran-based financial journalist, told DW.
"The government has been preparing for a drastic cut in oil revenues, for example, by stopping the import of currency intensive luxury goods like cars. In the short-term, rising oil prices should offset the loss in export revenues," he added.
Jamshidi pointed out that the support of Iran's primary oil importers, India and China, in circumventing sanctions by supporting the Iranian economy is extremely important for the country's long-term economic survival.
Since 2013, when President Hassan Rouhani took power, Iran has sought to attract foreign investment to rebuild its economy. In announcing the latest round of sanctions, the US said there could be temporary exemptions for Iranian oil importers like India and South Korea.
Read more: Iran sanctions: US grants oil exemptions for several countries
European businesses that have ditched Iran include French energy giant Total, which pulled out of a lucrative Iranian gas field development contract in August. Danish shipping giant Maersk announced in May that it would stop shipping Iranian goods.
Inflation is another economic threat, and according to economic analyst Arash Azarmi, inflation in Iran is increasing at a rate not seen since 1979. "Average price increases from the current year compared to last year have reached 40 percent," he told DW. Along with inflation, unemployment is also set to increase. Ali Rabiei, the former labor minister, predicted in August that US sanctions will cost more than 1 million Iranians their jobs.
Ordinary people caught in the middle
Unemployment is a major factor driving public protest against Rouhani's government, and this is only set to worsen as sanctions cut off more revenue streams. Public opinion is turning against moderates and the government is gradually losing support.
At the end of last year, mass anti-government protests resulted in 5,000 arrests and at least 25 deaths. Sporadic protests continue. In June, thousands of Iranian's protested in Tehran's Grand Bazaar against the plunging currency.
Read more: SWIFT could slow Trump's Iran sanctions
Iranian social media users spoke anonymously with DW's Farsi service about what they expect from the impact of sanctions.
One user said prices in Iran are rising uncontrollably. "Our incomes are shrinking. The pressure of sanctions are being felt by the people and not those who govern."
Another user added that the rampant increase in prices gives people "no room to breathe."
"There are no raw production materials, so many businesses must stop their operations, which leads to more unemployment. Those responsible are making empty promises, nothing more."
"The weakest part of society will, of course, be those that are most affected by sanctions," another user told DW. "Those who already have resources and options in their pocket, will say that the sanctions won't have any effect, and they are right, for them, sanctions are ineffective."
"The lives of ordinary people mean nothing to the government and it has always been this way. The poor, indebted workers, will be the ones who lose their jobs."
Iranians have been expecting the full force of sanctions for many months, but Sadegh Zibakalam, a political scientist at Tehran University, told DW that although Iranians believe sanctions will affect their lives, they may be underestimating the severity.
Read more: Rouhani: We accept protesters' anger over economy
"A considerable part of the population doesn't believe that the country will suffer food shortages in the coming months," said Zibakalam.
"Personally, I believe that prices will continue to rise and livelihoods will generally be more difficult," he added. "I see this as an unnecessary loss. For 40 years, we have been paying this unnecessary price because of the war with a self-defined enemy called America."
"The new round of sanctions will not bring Iranian life to a halt, but it will certainly prevent us from advancing," said Zibakalam.