Iran passed a significant milestone of its historic nuclear accord by shipping 25,000 pounds of low-enriched uranium and all of its 20-percent enriched uranium to Russia, the United States said on Monday.
"One of the most significant steps Iran has taken toward fulfilling its commitments occurred today, when a ship departed Iran for Russia carrying over 25,000 pounds of low-enriched uranium materials," Kerry said in a statement on Monday.
The shipment also included the removal of all of Iran's nuclear material enriched to 20 percent, except for fuel plates used at a research reactor allowed under the agreement, he added.
Near 20-percent enriched uranium is only a short technical step from producing weapons-grade material.
Ahead of next month's full implementation of the July 14 nuclear deal between Iran and the P5+1 group of world powers, Kerry said there were "important indications of significant progress towards Iran completing its key nuclear commitments under the deal."
Under the nuclear deal, known as the JCPOA, Iran promised to ship out all of its low-enriched uranium except for 300 kilograms (over 660 pounds). Low-enriched uranium can be used for power generation, but can also be further enriched to create a nuclear weapon.
It also committed to shipping out the 20-percent enriched uranium, turn it into low-enriched uranium or turn it into fabricated fuel plates for the Tehran Research Reactor.
In exchange, Iran is to receive 140 tons of raw uranium from Russia.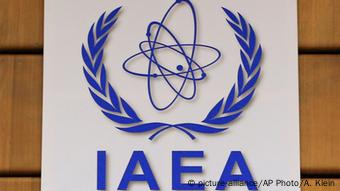 The IAEA has said Iran is on its way to implementing the deal
Kerry said the shipment has increased Iran's break-out time to develop enough weapons-grade uranium for one weapon to at least one year, a key goal of the nuclear deal. US intelligence estimates had put Iran's break out time at three months before the deal.
Before the nuclear deal is fully implemented next month, Iran must drastically reduce its number of centrifuges and take apart the Arak Reactor, which would cut off the path for development of a plutonium weapon.
Kerry said the US "understand[s] Iran is moving quickly to achieve" all commitments under the deal.
After the International Atomic Energy Agency (IAEA) verifies implementation, the sanctions that have crippled Iran's economy will be lifted and funds frozen in foreign banks released.
The IAEA has said Iran is well on the way to implementing all parts of the deal.
Iran has always claimed it never intended to build a nuclear weapon.
cw/bk (AFP, AP, Reuters)