According to India's Scheme for Protection and Preservation of Endangered Languages, at least 400 local languages face extinction in in the next 50 years. Most languages at risk are the ones spoken by marginalized tribes with low literacy rates.
One such language is Gondi, which is spoken by nearly 12 million indigenous people in six Indian states. But because the language doesn't have any standard script, its survival is at risk.
A citizen's initiative in Adilabad city in the southern Telangana state aims to preserve and promote the language by collating a standard Gondi dictionary that can facilitate education, journalism and administrative work in the state.
"After several years of work, we are close to compiling a Gondi dictionary and working on a standard script," Shubhranshu Choudhary, founder of the CGNet Swara non-governmental organization, told DW.
Nilanjan Bhowmik, a lecturer associated with the Gondi language revival project, says that if the community can come up with a standardized language, the state authorities could be forced to officially recognize it. This, he believes, will be an important step toward preserving the language.
Read more: Sanskrit or German? A row over foreign languages in India's schools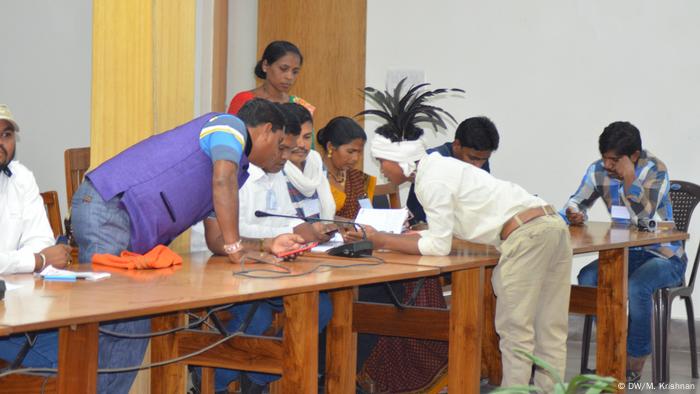 One of the objectives of the initiative is to bring the Gond people into the mainstream
Identity and politics
The Gondi language issue is not only cultural and administrative; the marginalization of the community and its language go hand in hand.
"A lack of employment opportunities has resulted in massive school dropouts and there is a sense of isolation in this community," Bhowmik told DW.
Marginalization has also forced many Gond youths to join the ranks of Maoist rebels, who exploit the economic and political alienation of the Gond community.
Read more: India struggles to fend off Maoist menace
"They Gond people need someone to listen to their problems in their own language. And that is why we have launched this revitalization movement," Mahendra Kumar Mishra, a language consultant, told DW. "The Gonds have their own cultural and political identity, which are connected with their language," he added.
A major obstacle for the government to start a dialogue with the tribal people is the absence of a standardized Gondi language. But the organizers of the Gondi language project say they plan to submit the Gondi dictionary to the Ministry of Human Resource Development and hope the officials will recognize the language soon.
Mainstreaming through standardization
One of the objectives of the initiative is to bring the Gond people into the mainstream. It is for this reason that the community is rallying together to project a national identity.
Languages without a standardized script have no place in India's formal educational system. Also, like Gondi, other indigenous languages such as Bhili and Santhali are considered minority languages because their speakers are scattered across several states.
Read more:
India signs landmark peace agreement with Nagaland separatist group
Cauvery — a thinning river widening the rift between two Indian states
The Gond community feels their language has been ignored by the Indian government, unlike other small languages that have undergone a standardization process.
"The standardization of Gondi is important because we'll be able to connect to people in other states also," Brajlal Tekam, a Gond musician from Balaghat in the central state of Madhya Pradesh, told DW.
"We want to reclaim our identity. Through this initiative, we are making history. Ours is a truly people's movement," said Suman Lata Achala, a Gondi revival workshop participant in Adilabad.