The daring ambush perpetrated on Monday by Maoist rebels in Chhattisgarh's southern Sukma region, killing 25 paramilitary personnel, was the deadliest assault committed by the left-wing rebels since killing 76 security forces in a single incident in 2010.
The attacks show the rebels' continuing stranglehold over the area and the inadequacies of the government's anti-Maoist offensive, which seems to be floundering.
Ironically, it was in the same area a month ago that 13 troops were killed in a similar attack on a road-opening party in a construction stretch, around 60 kilometers from Monday's ambush spot.
This time around, the nearly 100-strong commando team that was attacked was providing security for road construction work and came under fierce gunfire from Maoist guerrillas occupying vantage positions, causing heavy casualties. Some of the rebels were dressed up as villagers, according to eyewitnesses.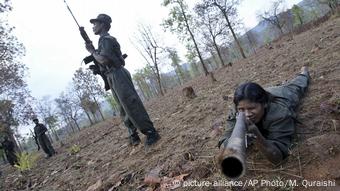 India's Maoist insurgency started in the 1960s and has so far claimed around 10,000 lives
An act of desperation?
"This is a serious attack and we will have to devise fresh strategies to counter the Maoist threat," D M Awasthi, special director general of police (anti-Maoist operations), told DW.
India's Home Minister Rajnath Singh termed the attack as an "act of desperation" by the Maoists. "This is a cold-blooded murder. The sacrifice of our jawans (soldiers) will not go in vain," said Singh. The minister has also called for a special meeting of states affected by Maoist violence early next month to revise the government's policy.
Understandably, the attack has brought into question New Delhi's strategy to contain the rebels who have been strengthening their presence on the ground in areas spawning vast stretches of central and eastern parts of the South Asian nation.
The Maoists also seem to be gaining influence among locals in a number of states, including Chhattisgarh, Jharkhand, Orissa, Mahrashtra and Bihar. The support is critical in their being able to sustain their forest and guerilla warfare.
Although officials claim they have succeeded in bringing down Maoist-related violence in the country, reports suggest that an increasing number of disaffected youth from indigenous communities are joining the ranks of the rebels.
India's Maoist insurgency, which started in the 1960s, has claimed around 10,000 lives and is considered India's most serious internal security threat.
While operating from their forest bases, the fighters often demand protection money from the local populace. They also oppose efforts to build new roads and infrastructure in remote areas because they believe it undercuts their campaign against the Indian state.
Faltering tactics
To counter the Maoist menace, successive Indian governments have put in place a policy clubbing police action with economic development. The current administration, led by Prime Minister Narendra Modi, has followed the same strategy. But security analysts remain skeptical about its effectiveness in redressing the problem.
"I don't think that it is a strategy with significant potential of success in terms of affecting the Maoists' basic capabilities and capacities. If you reduce this to a killing game you might be able to kill a few more Maoists. The point is you cannot really carry your attrition rates beyond the replacement rates," says Ajay Sahni, a counter-terrorism expert.
Observers say the affected states have failed to tackle tribal grievances that are propping up the Maoists.
"When you allow multinational companies and private corporations to carry out mining projects in the name of development in areas populated by indigenous communities this uprising is bound to happen," E N Rammohan, a former police officer, who has chronicled the Maoist rebellion.
He reckons that such actions by the state governments have created a fertile space in which Maoists have moved in and taken up the fight for the indigenous communities.
India's Maoists, often called Naxalites, have managed to draw support from disgruntled citizens, especially tribals, who believe they have been exploited and have not benefited from the fruits of economic growth. They claim they are fighting for the indigenous communities who, they stress, are routinely exploited by private corporations and the political class.
The government's view is that eliminating the Maoists militarily will resolve the problem.
Seven years ago, security forces launched a massive offensive called the "Operation Green Hunt," deploying nearly 35,000 troops.
Many of them were trained in jungle warfare by the Indian army to take on Maoists guerrillas operating from their hideouts deep within forests. But it did not have the desired impact and instead alienated tribal folk even more.
"The state should not be seen as an aggressor. Defeating a guerilla force through conventional warfare is not easy. It will only aggravate sentiments and lead to further bitterness among the indigenous peoples," Anoop Kumar, a social activist, told DW.
Often referred to as India's biggest internal security challenge, the country's anti-Maoist strategy is up for course correction.