Over two dozen personnel from India's Central Reserve Police Force (CRPF) were killed in an attack by suspected Maoist guerrillas on Monday.
Six more paramilitary soldiers were critically wounded in the ambush which took place in the remote Sukma district in the forests of Chhattisgarh state.
"We were attacked from all sides by around 300 Maoists armed with automatic weapons. We retaliated and a fierce gunbattle followed. Many of my colleagues have been hurt," CRPF personnel Saurabh Mallik told reporters.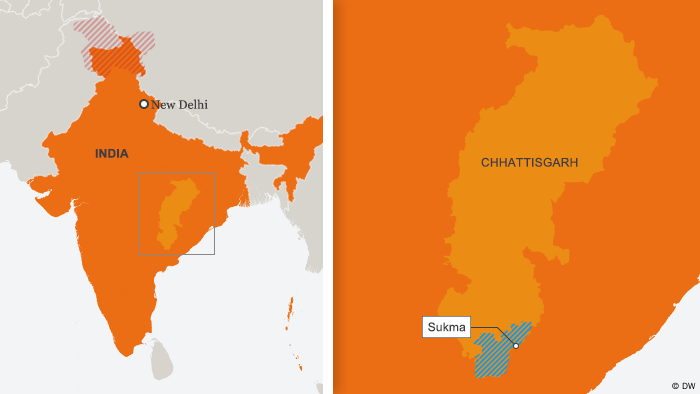 The paramilitary group had been tasked with providing security to road construction teams in the forested area when they were ambushed, senior police officer Jitendra Shukla said. It was not clear if explosives were used in the attack.
"We received information initially that 12 CRPF men were killed after they came under attack from Maoists who fired from nearby hilltops, but bodies of more slain personnel were found later. Some soldiers also died on way to hospital," Shukla said.
Indian Prime Minister Narendra Modi called the attack "cowardly and deplorable" on Twitter and said the government is "monitoring the situation closely."
Home Minister Rajnath Singh said officials were heading to the state to assess the security situation.
Decades-long conflict
The rebels, who say they are inspired by Chinese revolutionary leader Mao Zedong, have been fighting for decades in central and eastern India. The insurgency started as a peasant uprising in 1967, with both sides engaging in skirmishes in forests and rural areas.
The rebels' numbers have grown in strength in recent times especially in areas where tribal villagers have come into conflict with mining companies seeking resources of industrialization.
Security experts say the insurgency is the country's biggest internal security challenge.
The insurgents are believed to be present in at least 20 out of India's 29 states but are most active in Chhattisgarh, Orissa, Bihar, Jharkhand and Maharashtra.
rs/ss (AP, AFP, dpa, Reuters)