Lawmakers rejected an opposition motion of no-confidence in the government on Friday after the prime minister resigned and early elections were announced.
Another motion, calling for the immediate dissolution of parliament, was similarly defeated.
The 38-25 vote came a day after Iceland's new right-wing prime minister took office. Prime Minister Sigurdur Ingi Johannsson replaced Sigmundur David Gunnlaugsson, who resigned Tuesday amid mass protests over a hidden offshore account revealed in the "Panama Papers" leak of millions of financial records.
The country's new leader said the government would now focus on reforms including scrapping capital controls on banking that were introduced in the wake of the 2008 financial meltdown.
"We have very important projects ahead," Sigurdur Ingi Johannsson told the Reuters news agency after the vote. "There is a lot of work in society to build up trust in society again. That will not happen in one day."
Elections are slated for the autumn, but protesters outside parliament have demanded earlier polls. But the ruling party may not want to hold a new election so soon after the uproar over the Panama Papers scandal.
Two-thirds of voters do not trust the government sworn in Thursday, according to an opinion poll.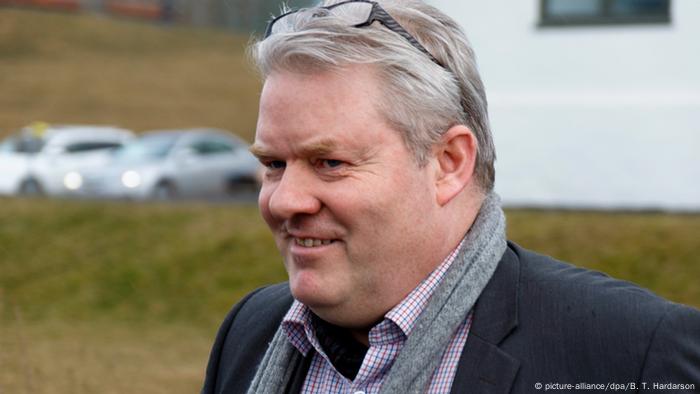 Newly sworn-in Premier Sigurdur Ingi Johannsson is seen by critics as emblematic of the old guard that turned a blind eye to the reckless investments that brought about the financial meltdown in 2008
Old guard deeply unpopular
Swedish television channel SVT - a partner of the International Consortium of Investigative Journalists, which coordinated the Panama investigation - reported that at least 600 Icelanders were cited as having links to offshore accounts.
Two of Iceland's cabinet ministers, including Finance Minister Bjarni Benediktsson, have been singled out. Benediktsson denies any tax evasion.
He offered the explanation that his offshore company was created to launch a real estate project in Dubai that never materialized, and the company has carried out no business since.
Recent opinion polls show the anti-establishment Pirate Party would win an election if it were held this week. Protests have continued.
Pirate Party leader Birgitta Jonsdottir told Reuters on Thursday that her party belongs to the global movement for change that includes US Democratic presidential candidate Bernie Sanders and Greece's left-wing Syriza party.
jar/jm (AFP, Reuters)