The rain in Texas has finally stopped falling - and the cleanup is only just beginning.
Hurricane Harvey has caused estimated damage from $150 and up to $180 billion (126 to 151 billion euros) - and those are just preliminary figures.
One thing is certain: Harvey was substantially more destructive than Hurricane Katrina, which cost New Orleans $120 billion in damages in 2005.
Harvey's death toll has climbed to at least 60. Ten of thousands have been made homeless. By some counts, up to a million cars were made unusable - and 185,000 buildings were damaged.
According to authorities, 70 percent of the region around Houston was under at least 18 inches (45 centimeters) of water at some point.
Many climate scientists have linked in particular the record rainfall to global warming.
The storm dumped at least 27 trillion gallons (102 trillion liters) of rain on Texas and Louisiana - some of this enormous amount has found its way not only into houses, but also into factories and chemical plants, as well.
Houston has been called the "oil capital of the world" - and oil is a dirty business.
Black smoke over Texas
Water flooded a chemical plant in Crosby, Texas, owned by the France-based chemical company Arkema.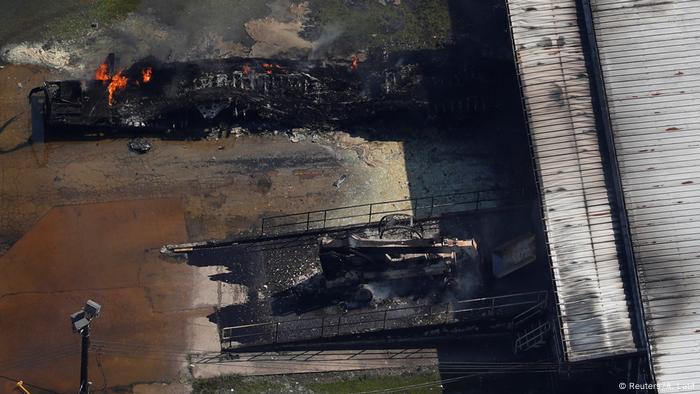 An explosion at the flooded plant of French chemical maker Arkema was followed by a fire
The water inside the plant was up to 6.6 feet (2 meters) deep.
Arkema produces organic peroxides - reactive chemicals that need to be stored at low temperatures. They are used in the production of plastics, medicines and paints. Some of these are petroleum-based.
When the electrical power supply for the refrigeration mechanism went down, the chemicals exploded.
Arkema said the best course of action was to let the fire burn itself out. But as long as not all chemicals had burned themselves out, further explosions were likely.
Arkema then decided, in cooperation with the authorities, to deliberately set fire to the remaining chemicals.
Authorities ordered evacuation for all remaining workers, and for everyone within a 1.5-mile (2.4-kilometer) radius.
Black smoke was seen rising from the damaged plant after the explosion.
The Texas environmental agency called the smoke "especially acrid and irritating," and said it can impair breathing and inflame the eyes, nose and throat.
Consequences for the environment are not yet known.
Unexpected aftermath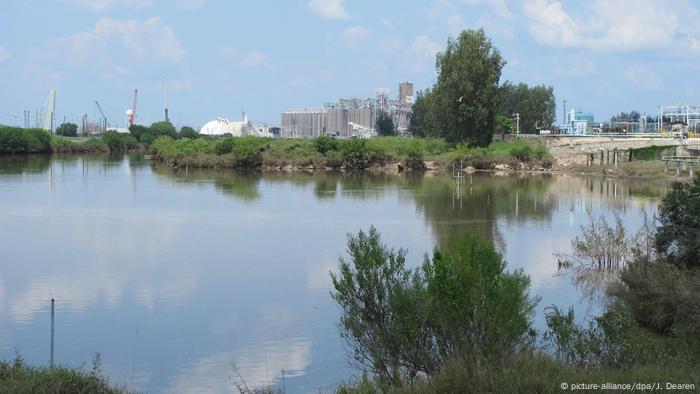 Patrick Bayou in the Houston ship channel is polluted with pesticides, hydrocarbons, and metals
On Saturday, the Environmental Protection Agency (EPA) said it had reviewed aerial imagery confirming that Harvey had flooded and/or damaged 13 "Superfund" sites in Texas. Superfund sites are among the most polluted places in the nation - including toxic waste sites and former industrial sites.
The EPA said that two of these sites - Falcon Refinery and the Brine Service - had been inspected, and did not require emergency cleanup.
EPA said they were not able to physically visit the other sites, as they "have not been accessible by response personnel" due to the flooding. The agency estimated it would take 10 to 15 days for the floodwaters to recede and make closer inspections possible.
On Monday, EPA and Texas Commision of Environmental Quality (TCEQ) technical staff inspected the grounds of three other Superfund sites around Houston by boat.
"The TCEQ is working closely with the EPA and local officials to assess the status of Superfund sites in the affected area. We will continue this as sites are safely accessible," said TCEQ Chairman Bryan Shaw.
The worry is that floodwaters flushed poisonous substances and heavy metals into the area.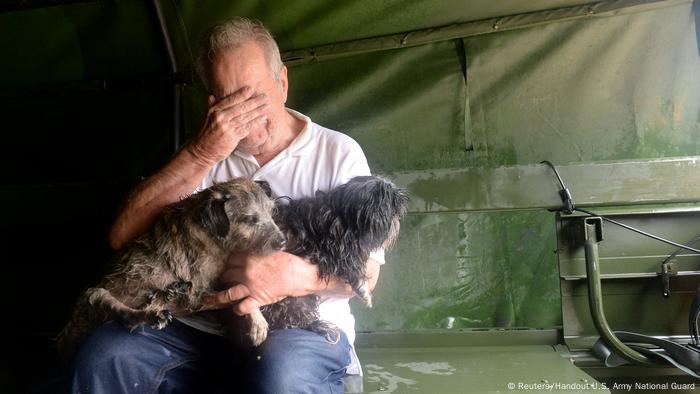 Hurricane Harvey had an immeasurable effect on the people of Houston - now they have to worry for their health
Water desert
Pre-Harvey Houston was a concrete jungle without many green spaces - that became a problem when the floods hit.
Water had no chance to drain away.
Houston is the fourth-biggest city in the United States - and authorities had allowed many buildings to be constructed in flood-prone areas.
To make matters worse, two major water reservoirs had overflowed, and a levee at Columbia Lakes was breached under the water's weight.
"Houston didn't just flood - it flooded with contaminated water," said Brian Zabcik, a clean water advocate at Environment Texas.
"Anyone who was forced to swim or wade through high waters should be alert for any possible signs of illness, especially stomach or gut problems."
On its website, EPA advised people to have as little contact as possible with floodwater.
It contains wastewater from sewers - including bacteria and other pathogens - as well as other hazardous substances. In any case, it should be boiled before drinking.
Brewing companies halted beer production to provide cans with drinking water for Harvey victims, which were distributed by American Red Cross staff.
The extent to which the flooding has polluted the environment - and drinking water sources - is expected to become clearer over the weeks to come.