Damage from Hurricane Harvey's ravaging of Houston and the Texas Gulf Coast is estimated to be in the tens of billions of dollars, but well below those from the major storms that hit New Orleans and New York in recent years, insurance executives have said.
Yet the worst may be still to come. The US weather service downgraded Harvey to a tropical storm on Saturday, but torrential rains have continued to drown the area and are expected to continue for most of the week, hampering rescue and clean-up efforts.
The amount of water in Houston was so unprecedented that the weather service had to update the color charts on its official rainfall maps to indicate the heavier totals. Peak flooding is not expected until Wednesday or Thursday.
Storm insurance
Though it was the most powerful hurricane to hit the Lone Star state since 1961, insurers should be able to swallow the damaged property and vehicle claims easily, given that there have been relatively few natural disasters so far this year.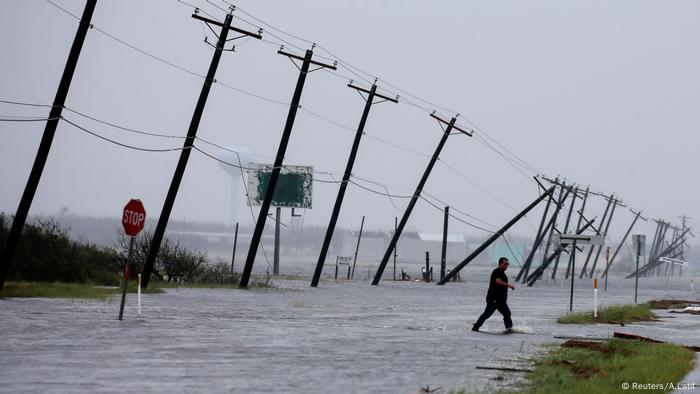 Property damage is extensive throughout the area
German-based Munich Re and Hannover Re, two of the world's largest reinsurers, said current information suggests that insured losses from Harvey are likely to fall well short of the $75 billion (62 billion euros) for Katrina in 2005 and $30 billion for Sandy in 2012.
Air Worldwide, a provider of catastrophe risk modelling software, said early on Monday that insured losses from Harvey's wind and storm surge were only estimated at between $1.2 billon and $2.3 billion, however, these figures do not include flooding.
Read more: Is climate change to blame for Hurricane Harvey?
In the end insurers are expected to only cover a small portion of the cumulative losses because of the very fact that damage due to flooding is often not covered by most insurance policies. The insurance companies also usually do not cover lost output which is estimated to be in the billions in the next weeks, let alone lost sales or other transactions that simply do not happen because of the chaos.
Black gold
Additionally, the Gulf Coast is home to important shipping facilities and manufactures who specialize in plastics, resins and chemicals. The area is also the seat of around a third of America's oil refining capacity, much of which was shut down as a precautionary measure.
Texas accounts for nearly 50 percent of America's petroleum and gas exports and a fifth of its chemical exports, according to the New York Times.
Goldman Sachs analysts estimated that about three million barrels a day of refinery capacity was offline as of Sunday, or 16.5 percent of the total US capacity.
In addition, about 18 percent of natural gas production was still suspended.
For safety reasons, 105 of the 737 offshore oil rigs in the Gulf of Mexico were evacuated before the storm made landfall on Friday, according to the Bureau of Safety and Environmental Enforcement. By Monday, 98 still remained closed, continuing a disruption in output.
The US government said it would make emergency stockpiles of crude available if needed to plug disruptions. In the past it has regularly used them to dampen the impact of previous storms on energy supplies.
Though unemployment claims will probably spike in the coming weeks, most experts expect the Texan Gulf Coast to recover quickly. It is a densely populated and prosperous area, and in the end, disasters often have a positive impact on the economy through heavy government spending, insurance payouts and the thousands of jobs created as the clean-up efforts and rebuilding accelerates.
tr/uhe (Reuters, AP, AFP)