US President Donald Trump said at a press conference on Monday that the recovery process for Houston will be a "long and difficult road" following massive flooding caused by Hurricane Harvey.
"There's probably never been anything like this," Trump said about Hurricane Harvey, adding that the federal government is ready to support storm relief efforts despite talk of a possible government shutdown.
"The rebuilding will begin and in the end it will be something special," he told reporters.
Hurricane Harvey is the first major natural disaster to take place during Trump's presidency. He is expected to visit the impact zone in Texas with First Lady Melania Trump on Tuesday.
Read more: Hurricane Harvey: Is climate change to blame?
The rain and floods have been blamed for at least six deaths as floodwaters rushed into neighborhoods, turning roads and highways in America's fourth-largest city into rivers.
Houston Mayor Sylvester Turner said at a press conference on Monday evening that 1,000 people had been rescued by police over the last eight hours, bringing the total number of people rescued to 3,052.
Earlier in the day, Trump issued a federal disaster declaration for the neighboring state of Louisiana, authorizing the Federal Emergency Management Agency (FEMA) to coordinate disaster relief efforts there and ensuring federal funds to cover protective measures.
While Houston experienced a break in the rain on Monday morning, heavy rainfall was expected to return later in the day and into Tuesday.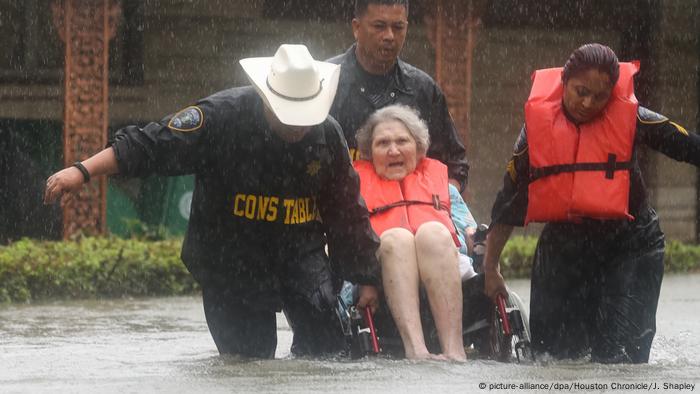 With demands on their services so high, rescuers have concentrated on helping the most vulnerable
Chemical leak
Authorities in the coastal La Porte and Shoreacres regions of the state, outside of Houston, issued a chemical leak warning on Monday evening.
The La Porte Fire Department said in a statement that it was working on a chemical leak from a ruptured pipeline in the area. They advised anyone nearby to remain indoors.
There was no immediate information on what type of chemical substance was leaked.
Thousands in need of aid
US emergency officials on Monday said they would strive to deliver federal help to Texas, with more than 450,000 people thought likely to seek assistance for possible replacement of property and other disaster-related aid.
FEMA director Brock Long said tens of thousands would be in need of temporary homes, with the flooding caused by Hurricane Harvey expected to worsen.
"We're anticipating over 30,000 people being placed in shelters temporarily to basically stabilize the situation and provide for their care," said Long.
"This is a landmark event. We have not seen an event like this. You could not dream this forecast up. You couldn't draw this situation up."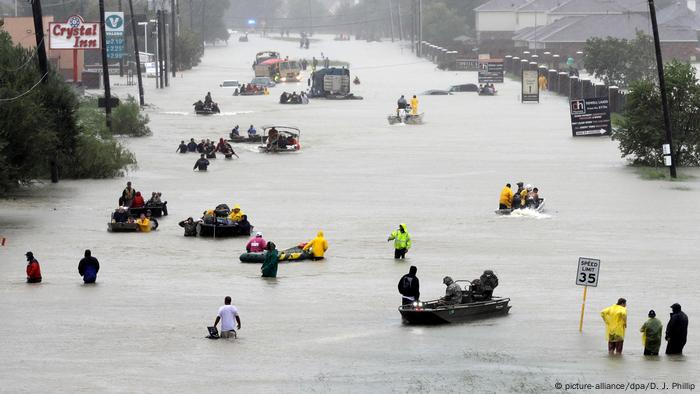 Volunteers have begun using their own boats to help with rescue efforts
Citizens urged to help
FEMA administrator Long has urged members of the public to get involved in dealing with the emergency, stressing that the government alone would be unable to address the scale of the disaster. Rising floodwater drove many to escape to their roofs or to move to higher ground, with officials struggling to keep up with constant calls for help.
Rescuers were said to be giving priority to life-or-death situations.
Texas Governor Greg Abbott said he would call up an additional 1,000 National Guard troops, with 3,000 already deployed in the state. In an effort to prevent even more severe flooding of downtown areas in Houston, the Army Corps of Engineers released water from nearby reservoirs, over fears that they would overflow.
Read more: Hurricane Harvey: The emergence of an elemental force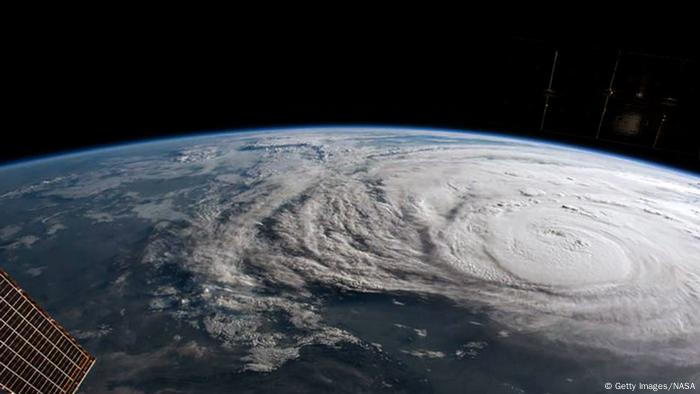 Harvey continued dropping heavy rain over Texas even after it was downgraded to a tropical storm
Mixed messages
Before the storm, residents of Houston were given mixed signals on whether to evacuate, with the Texas governor and the Houston mayor advising different courses of action.
While Abbot had urged people to flee the hurricane's path, Mayor Sylvester Turner urged drivers to stay off the road and issued no citywide evacuation order.
Turner defended his decision, saying his decision included not knowing where Hurricane Harvey was headed, and the "crazy" logistics of evacuating a city of 2.3 million people within a couple of days.
Louisiana braces
The slow-moving storm is set to dump up to 20 more inches (51 centimeters) of rain over the next few days as Harvey moves out of Texas and into Louisiana, the National Weather Service (NWS) said Monday. Over 30 inches (76 centimeters) have already fallen in some areas of Texas.
The forecast means that the flooding will get worse in the days ahead and that the floodwaters will be slow to recede once the storm is over, the NWS said.
Harvey hit land as a Category 4 hurricane late on Friday some 30 miles (48 kilometers) northeast of the city of Corpus Christi. It has since been downgraded to a tropical storm.
rs, rc/cmk