Hungary's Foreign Minister Peter Szijjarto was visibly proud when, after 17 months of negotiations, he recently announced a multibillion-euro investment in his country by a German car manufacturer. "Some 150,000 cars can be produced in Debrecen every year," said the minister. "This will initially create more than 1,000 jobs."
The plant's construction is set to begin in a year. With this decision, BMW is just following in the footsteps of its fellow German automakers, which have pumped huge investments into the Central European country over the past two decades.
Read more: Hungary critically needs labor that's nowhere to be found
"The investments started after the disintegration of the Soviet Union and German reunification," said Sandor Richter from the Vienna Institute for International Economic Studies (WIIW). "The auto industry, in particular, has sought and found opportunities there."
For the investors, the expert noted, it was important that "Hungary is well connected to the West," in addition to offering tax incentives and a pool of well-trained workers.
Hungary's corporate tax rate, at 9 percent, is the lowest in the EU, said Dirk Woelfer from the German-Hungarian Chamber of Commerce and Industry (DUIH). And the unions are weak. "In 2012, labor law was fundamentally reformed to make it entrepreneur-friendly," he said.
Trade unions in Hungary have little influence and organizational capacity, Woelfer told DW. "Most wage agreements are agreed upon by various stakeholders within a company, and not, as in Germany, through collective bargaining agreements. The Hungarian arrangement is likely to be advantageous for the employer," the DUIH expert underlined.
In BMW's case, the company's decision to invest was influenced by the availability of good transport connectivity, a qualified workforce and quality suppliers in the country.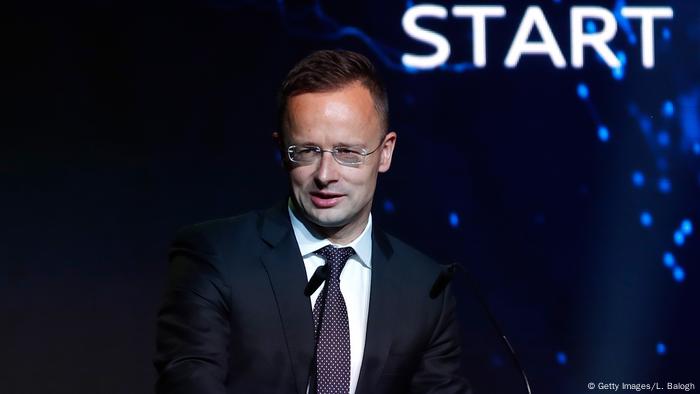 Foreign Minister Szijjarto attended a ceremony in July to start serial production of the Audi electric engines in Gyor, Hungary
Balancing interests
German companies have directly and indirectly created about half a million jobs in Hungary, said Woelfer. This benefits the nation's skilled workers, who earn higher wages working for these firms. It also comes in handy for the government, which, facing criticism for its illiberal political course, points to its impressive achievements on the economic front: 4 percent annual GDP growth coupled with a low unemployment rate.
"The industriousness of Hungarians, their willingness to work and their creativity knows no bounds," praised Foreign Minister Szijjarto.
But Prime Minister Viktor Orban's economic policies have a downside.
Large corporations such as banks and supermarket chains were previously allowed to bleed, big farmers from Austria with holdings in Hungary were dispossessed. Woelfer said legal uncertainty was a big issue during the initial years of Orban's rule, which began in 2010. "That put a tremendous strain on entrepreneurship." However, this problem has "eased in recent years," he pointed out.
The German carmakers also enjoy special protection, WIIW analyst Richter stressed. "They're exempt from the government's propaganda campaigns against major foreign investors. The most important condition: they must not get in the way of the Hungarian government and the interests of its oligarchs."
If they compete with any Hungarian government-associated businesses, they are then viewed as "unwanted competitors," stressed Richter. But in the manufacturing industry, especially in the automotive sector, there is no competition from Hungary, the expert said. "There's no Hungarian BMW or Mercedes that gets affected by competition from Germany."
Read more: Viktor Orban's campaign against George Soros 'mercenaries'
Potential for more
In the long term, however, German companies might face a problem even in Hungary when it comes to recruiting skilled workers. The country is experiencing a brain drain, with hundreds of thousands of Hungarians – especially the well-educated - leaving their homeland in search of a better future elsewhere.
When German companies hire Hungarian experts, it makes it significantly more difficult for Hungarian firms to tap homegrown talent.
Hungary's tax system also leaves much to be desired, said Richter. "Hungary is not a low-tax country." There is a flat income tax rate of 15 percent, meaning that "high-income earners earn very well," the expert said. However, he pointed out that the country also imposes the highest VAT rate of any EU country, at 27 percent, "which makes goods very expensive for consumers."
The government always boasts about its economic achievements, pointing to fast GDP growth and a low jobless rate. But Richter stressed that small and medium-sized enterprises in Hungary are not doing well. And "economic growth is not sustainable."
Many EU funds had already been used up in the run-up to the election, therefore less money will flow from Brussels in the coming years, said Richter. "I expect only 2 percent economic growth going forward."
But observers say there is potential for faster expansion. "With the right economic policies, more competition, increased transparency and less corruption, Hungary could be far better off than it is today," Richter stressed.