Around 210,000 demonstrators in Cologne, Berlin, Munich and Hamburg vented their anger at the government's nuclear policy on Saturday, supported by Germany's umbrella union body, the DGB, as well as politicians from the opposition Greens and Social Democrats.
Alarmed by the nuclear crisis in Japan, environmental and religious groups as well as unions organized the demonstrations, which kicked off in Cologne's city center, where nearly 40,000 people turned up to support the cause.
Around 90,000 people took to the streets in Berlin while in Hamburg, organizers counted around 50,000 demonstrators and in Munich the figure was estimated at 30,000.
Organizers said they were the biggest anti-nuclear protests Germany has ever seen.
"The government must now respond with plans to switch off all atomic reactors," they insisted.

The government insists on nuclear energy as a transition technology
Speaking at the demonstration in Berlin, the head of the DGB union group, Michael Sommer, told the crowd: "We have to wean ourselves off nuclear energy in an orderly fashion."
"And to those in the nuclear industry and those who support atomic energy, let me say this: We've had enough of your lies, of your assurances and of your playing down of the dangers," he added.
Economics minister under pressure
Meanwhile, Economics Minister Rainer Brüderle remained under fire for comments he made last week about Berlin's nuclear policy turn-around, with Social Democrat Sebastian Edathy calling him a liar and demanding his resignation.
On Thursday, minutes surfaced of a meeting between the head of the Federation of German Industry (BDI), Werner Schnappauf, and Brüderle in which the minister described the government's decision to suspend a plan to extend the lifetimes of German nuclear reactors for three months as "not rational."
He also hinted in the document that the move was politically motivated because of two crucial elections on Sunday in the states of Baden-Württemberg and Rhineland-Palatinate.
Schnappauf resigned after the document was published, whereas Brüderle insisted in parliament that he was misquoted.
Industry split
Business representatives are divided on the nuclear issue, with the head of the influential German Engineering Federation, Thomas Lindner, warning against a hasty retreat from nuclear energy.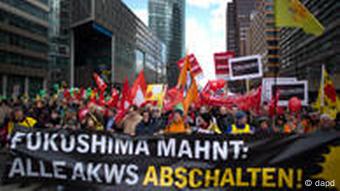 Fukushima has made nuclear-phobic Germans even more determined
It would be pointless, he said, "if 80 percent of reactors were switched off and we have little wind and cloudy skies," he told the weekly newspaper "Euro am Sonntag," referring to nuclear opponents' calls for Germany to generate more of its power through wind turbines and solar cells.
Carmakers Volkswagen and Daimler, however, are more relaxed about the issue, according to a report in the weekly business magazine Wirtschaftswoche.
"By the time we've switched to electric cars on a large scale we will have alternative energy sources in place," VW was quoted as saying.
Radiation spreads in Japan
In Japan, radiation levels have soared in seawater near Japan's crippled Fukushima nuclear plant, officials said on Saturday.
Engineers are still struggling to stabilize the power station two weeks after it was hit by a massive earthquake and tsunami.
Tests on Friday showed levels of iodine 131 in seawater 30 kilometers (19 miles) from the coastal nuclear complex had spiked to 1,250 times higher than normal, but were not considered a threat to marine life or food safety, the Nuclear and Industrial Safety Agency said.
Two of the plant's reactors are now seen as safe, but the other four are volatile, emitting steam and smoke. The nuclear safety agency said on Saturday that temperature and pressure in all reactors had stabilized.
Author: Nicole Goebel (dpa, dapd, AFP, epd)
Editor: Kyle James