It was not a particularly spectacular event in the Bundestag. About a dozen lawmakers in the German parliament and a few human rights activists attended a speech made by Lyudmyla Kozlovska.
The head of the Warsaw-based Open Dialog Foundation spoke on an issue that is causing deep divisions in Europe: The dismantling of the rule of law in Poland and Hungary.
Her appearance attracted little attention from the German media but certainly did not go unnoticed in Poland, where the pro-government press decried a "provocation" and labeled the event a "scandal." Politicians in Warsaw were similarly outraged.
It was hardly a surprise that Kozlovska's invitation would agitate Poland. The ruling Law and Justice Party (PiS) view the 33-year-old Ukrainian as an enemy of the state.
The Crimean-born activist has been running the foundation, which is committed to promoting values of civil society and the "protection of human rights, democracy and rule of law in the post-Soviet area," for nine years.
Read more: Gay mayor gets Poland's left dreaming of change
Open dialogue for human rights
The Open Dialog Foundation supported Ukrainian activists during the anti-government Euromaidan protests between November 2013 and February 2014. The foundation also helped opposition dissidents in Kazakhstan after the Zhanaozen massacre that was carried out during the violent suppression of Independence Day demonstrations in December 2011. It exposed corruption in Moldova. And it was once welcome in Poland — until the summer of last year.
The hostilities began with a Facebook post by Kozlovska's husband, Bartosz Kramek, who is also head of the foundation board. "A regime that dismantles public life and the system of government must expect society to react," wrote Kramek on social media, calling for civil disobedience, strikes, and anti-government protests.
Overnight, relations with the powers-that-be turned sour. The Polish Foreign Ministry had the foundation's finances reviewed, and attempted to invoke a court ruling that would have established a board of trustees (thus replacing the existing board of directors).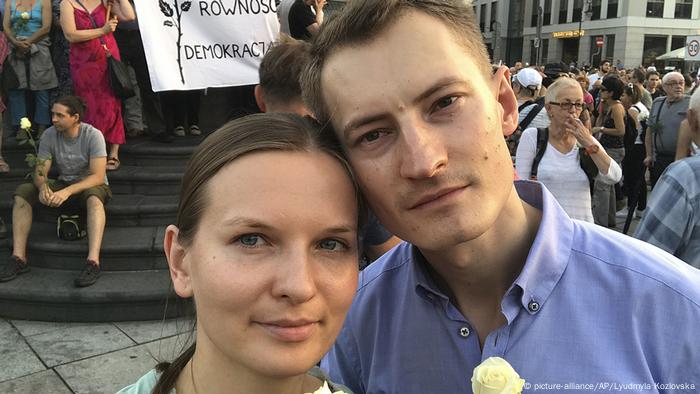 Lyudmyla Kozlovska and her husband Bartosz Kramek during an anti-government protest in Warsaw in 2017
Persona non grata in Poland
In August this year, the Polish government turned up the heat. When Lyudmyla Kozlovska applied for permanent residency in Poland — and thus within the EU — Poland rejected her application and had the Ukrainian deported and subsequently banned from all 26 countries in Europe's Schengen Area.
The Internal Security Agency (ABW) said its counterintelligence department had "serious doubts" about the financing of her foundation. It declined to reveal further details of the accusations but added that there could be "legal repercussions."
The ambiguous official explanation sparked a media frenzy. Pro-government newspapers published several articles referring to the foundation's "undisclosed funding sources."
Kozlovska was described as a foreign agent, allegedly with close ties to Hungarian-American billionaire George Soros and dubious oligarchs in Eastern Europe. Well-known government opponents and famous celebrities such as former Polish President Lech Walesa spoke out against this depiction.
But the outpouring of support did little to help. The expulsion from the Schengen zone was upheld and Kozlovska was deported to Ukraine in August. Poland also registered her in the Schengen Information System security database.
Read more: Top German court sides with broadcaster in Nazi camp row
German-Polish political dynamite
It was then revealed that members of the Bundestag had invited Kozlovska to Berlin. As the Ukrainian activist was denied a Schengen visa in Poland, she turned to the German embassy in Kyiv, which — despite the ban — issued her with an entry permit.
"It is unacceptable for Poland to prevent a meeting between members of the Bundestag and a human rights activist," criticized Frank Schwabe from the Social Democratic Party (SPD).
Andreas Nick from Chancellor Angela Merkel's Christian Democratic Union (CDU) also supported the event, saying that German politicians wanted to know firsthand what the human rights situation was like in Poland and Hungary.
In government circles in Poland, the significance of the event is much less benign: The invitation is viewed as "an unfriendly gesture" on Germany's part. A junior minister at the Polish Foreign Ministry personally informed the German ambassador just how angered Warsaw was by the invitation.
Polish President Andrzej Duda even told his German counterpart Frank-Walter Steinmeier in Riga last week that the Bundestag's invitation was harmful to bilateral relations between the neighboring countries.
The Polish media mirrored Duda's indignation. A commentator on Polish state television news channel TVP Info even compared Kozlovska's invitation with a declaration of war on Poland: "The core of the Molotov-Ribbentrop Pact remains relevant," he said, referring to what is commonly known as the Nazi-Soviet pact.
Germany's apparent disregard of Poland's entry in the Schengen Information System heightened Warsaw's sense of being snubbed. The issue now threatens to become a political grenade that will destabilize relations from either side.
Either Poland now provides irrefutable evidence that Kozlovska poses a security risk that justifies her expulsion from Schengen, in which case the Bundestag would then appear imprudent, or Warsaw's credibility is severely damaged.
Every evening at 1830 UTC, DW's editors send out a selection of the day's hard news and quality feature journalism. You can sign up to receive it directly here.