Describing errors by the pilot, airline and regulators in Bolivia, where the plane originated, investigators in Colombia confirmed that an empty fuel tank caused the plane to crash just outside Medellin on November 28.
The BAE 146 aircraft had been transporting the Chapecoense soccer team to the biggest game in its history, the final of the Copa Sudamericana, when it crashed into nearby mountains.
Besides a lack of fuel, the plane was over its weight limit by nearly 400 kilograms (881 lbs) and was not certified to fly at the altitude at which the journey took place, investigators said.
Several errors highlighted
"Conditions for the flight presented in the flight plan ... were unacceptable," Colombia's Secretary for Air Safety Colonel Freddy Bonilla told journalists.
"No technical factor was part of the accident, everything involved human error, added to a management factor in the company's administration and the management and organization of the flight plans by the authorities in Bolivia," he added.
The preliminary findings by Colombian authorities backed up similar assertions by Bolivia last week that blamed the charter airline LaMia and the plane's pilot for the accident.
Bonilla added that the pilots "were aware of the fuel limitations they had at the time," but they failed to alert air traffic control until several minutes before the crash.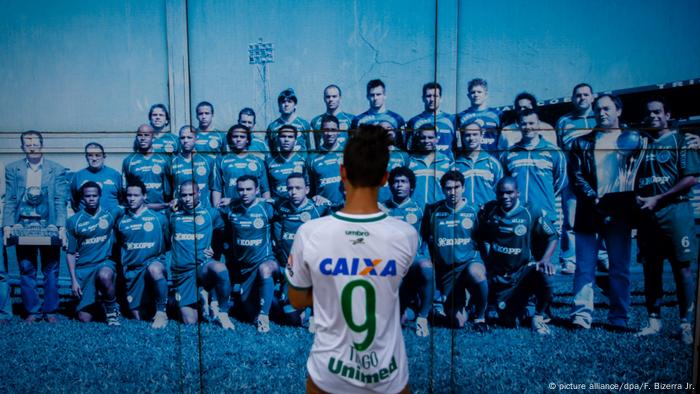 Several Chapecoense players were onboard the doomed jet
Eight minute warning
The pilots requested priority to land at 9.49 pm local time (02:49 UTC) because of a fuel problem, according to flight data. They then began their descent before receiving authorization. At 9.53 pm, one of their engines stopped, followed by three others just a few minutes later.
The plane declared an emergency at 9:57 pm because of a "total electrical failure," then disappeared from the radar.
At 9:58 pm, the plane slammed into the Cerro Gordo mountain at a speed of 115 knots (around 130 miles per hour), but there was no explosion upon impact, pointing to a scarcity of fuel.
The BAE 146 Avro RJ85 has a maximum range was 2,965 kilometers (1,600 nautical miles) - just under the distance between Medellin and Santa Cruz, Bolivia, where the plane had taken off.
All but three Chapecoense players and staff onboard were killed. Two crew members and one reporter also survived.
mm/kl (AFP, AP, Reuters)