Tens of thousands of people gathered in and around the Conda Arena stadium in the southern Brazilian city of Chapeco on Saturday as the city mourned the deaths of most players and staff from its Chapecoense soccer club.
Fifty-one players, coaches and other people associated with the team were killed on Monday when the charter plane flying them to their next match ran out of fuel and crashed into an Andean mountainside near Medellin, Colombia.
The crash tragically cut short a fairytale season for the club, which had been flying to Medellin for the finals of the Copa Sudamericana, South America's second-biggest club tournament, after claiming an unexpected victory in the semifinal match against Argentina's San Lorenzo team.
The coffins of the Chapecoense team members were met by Brazilian President Michel Temer on arrival, and taken to the stadium in a funeral procession.
The Brazilian national team's coach, Tite, and FIFA head Gianni Infantino both attended the funeral, with Infantino cancelling a trip to Australia to be able to attend.
Goalpost symbol
As the stadium has capacity for just 19,000 people, two giant screens were set up outside for the crowds gathered in the surrounding area. A single set of goalposts was left standing in the stadium, the one successfully defended by goalkeeper Marcos Danilo Padilha in the semi-final match in a heroic last-minute save that clinched Chapecoense's trip to the finals.
Padilha, 31, initially survived the crash, but died in the ambulance on the way to hospital.
Thirteen people associated with the club were buried at two cemeteries in the city, while the rest, including the 19 players, will be transported later to other Brazilian cities for interment.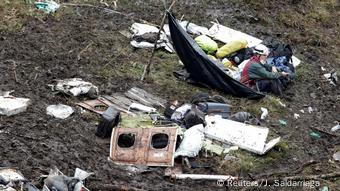 The plane appears to have run out of fuel
Twenty journalists were also among the total of 71 people who died in Monday's crash.
Six people survived, including Chapecoense defender Alan Ruschel, who is in intensive care after back surgery, and backup goal keeper Jakson Follmann, who has undergone several operations, including the amputation of his right leg.
Ongoing investigation
An investigation into the causes of the crash is ongoing, with pilot error and air traffic control problems also being examined as possible factors.
Colombia's civil aviation safety chief, Freddy Bonilla, said the plane had disregarded international rules of fuel reserves.
The British Aerospace 146 jet involved in the crash belonged to the Bolivia-based charter airline LaMia, which specializes in flying Latin American football teams. The airline has been suspended from flying for the duration of the probe.
A minute's silence will be held before every Champions League and Europa League match next week in honor of the Chapecoense team.
tj/jlw (AFP, AP)