The southern city of Chapeco and its 200,000 residents mourned outside the team's small green-and-white concrete stadium on Tuesday.
The club's chartered aircraft crashed south of Medellin, killing 71 of the 77 people aboard, including most of the team
An improvised shrine outside the player's entrance to the stadium was filled with jerseys, flowers and candles.
Among the tributes was a poster that celebrated, in a child's handwriting, Chapacoense's meteoric rise into top-flight Brazilian soccer: "They never tired of climbing, and now they're in heaven."
It was a familiar theme on social media.
"They were the hope of our city," Jean Panegalli, a 17-year-old student from Chapeco, told the Reuters news agency. "They played for love of the shirt and not for money. They played with the commitment that only those who have lived here know."
Meanwhile, the mayor of Chapeco, along with Brazilian aviation disaster experts, and police and health officials, were headed to Medellin on a Brazilian Air Force plane, according to a statement from the spokesman of Brazilian President Michel Temer.
Investigators have found two black box recorders where the plane went down, according to Governor Luis Perez of Antioquia department. He said a crew member had reported that "the lights on the aircraft suddenly went out."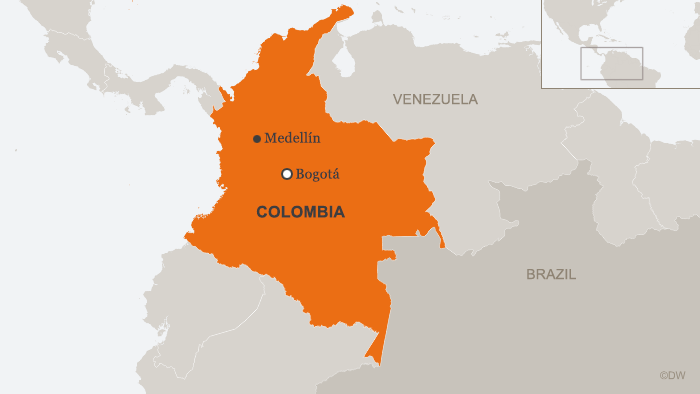 The British Aerospace 146 plane was reportedly first sold as new in 1999, and used by two other airlines before it was bought by the Bolivian contractor Lamia.
On a path to glory
Tributes have poured in from around the world for the team, which had been responsible for the best season in the club's 43-year history. They were on their way to the first of two matches in the final of the Copa Sudamericana, the continent's second level club tournament.
Only three of the team survived the crash. Doctors said they had to amputated the leg of reserve goalkeeper Jackson Follman, after he survived the crash that killed 19 of his teammates.
Meanwhile, the vice president of the club Ivan Tozzo promised that the club would get back on track and would play again next year.
"We are going to have to restructure the club, sign new players, hold lots of meetings and have lots of patience to keep going," Tozzo said. "We intend on continuing next year."
Other clubs have already offered their help, with a group of senior teams calling for the Chapecoense team to be exempt from relegation for three years.
Solidarity from league members
Several of the country's top sides announced they would loan players to help Chapecoense get back playing again.
"It is the minimum gesture of solidarity that is within our reach at this point in time, but it is borne of the sincerest desire to reconstruct this institution and that part of Brazilian football that was lost today," a joint statement by major clubs said.
Even clubs whose most-hated rivals play in green turned their stadiums and their web sites green, the color of Chapecoense, on Tuesday night.
Corinthians, who once considered dyeing their pitch a different color because rivals Palmeiras play in green, turned their home page emerald. Meanwhile, Atletico Paranaense put aside their rivalry with Coritiba to light their stadium green.
rc/gsw (Reuters, dpa, AFP)