In the wake of the crash on Monday night local time, Brazilian President Michel Temer expressed "my solidarity in this sad hour during which tragedy has beset dozens of Brazilian families." This sentiment was echoed by his Colombian counterpart Juan Manuel Santos, who said his government offered its support to with "the families of the victims and Brazil."
Temer added that Brazil's foreign ministry and air force were working to assist the relatives, adding that "the government will do all it can to alleviate the pain of the friends and family of sport and national journalism."
Alfredo Bocanegra, head of the civil aviation authority said there were six confirmed survivors, three players from the Chapecoense Real soccer team, two crew members and one journalist. One passenger, goalkeeper Danilo (Marcos Danilo Padilha), initially survived the crash but later died in hospital.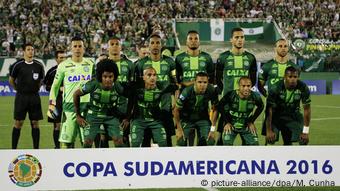 The Chapecoense team comes from southern Brazil
Brazilian TV channels Globonews and SporTV identified the surviving players as defender Alan Ruschel, Danilo - who later died in hospital - and reserve goalkeeper Jakson Follmann. Defender Neto, whose full name is Helio Hermito Zampier Neto, was also among the survivors, authorities later confirmed.
Brazilian national star Neymar was among a number of soccer stars to express his grief, saying in an Instagram post: "It's impossible to believe this tragedy, impossible to believe what happened, impossible to believe that the plane crashed, impossible to believe that athletes, human beings were on this plane, impossible to believe that these people left their families. ... Today the world cries, but heaven rejoices in receiving champions."
Rescue operations temporarily halted
The flight was carrying 68 passengers and nine crew members to the Colombian city of Medellin for the final of the Copa Sudamericana, a competition for club teams across South America. Alongside the athletes and team personnel, Brazilian news organizations reported 21 journalists had been on board.
Rescue operations at the site were suspended in the early hours of Tuesday morning amid heavy rain, Medellin airport said.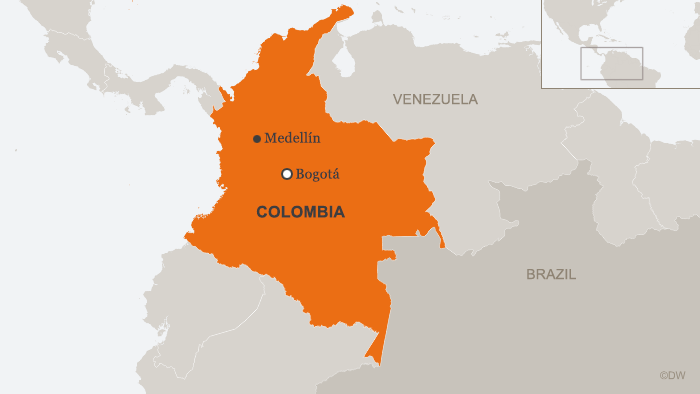 The pilots of the plane were reportedly having problems with the electronics system before the accident, the airport authorities said on their Twitter feed. They said the plane had declared an emergency at 10 p.m. Monday (0300 UTC Tuesday) due to an electrical failure. The head of Colombia's civil aviation agency said later that authorities weren't ruling out the possibility the chartered flight ran out of fuel before crashing.
The crashed aircraft was a British Aerospace 146 short-haul plane operated by Bolivian charter airline Lamia, authorities said.
A civilian aviation database website reported that the plane made its first flight on March 1999. From 1999 to 2007, it was owned by Mesaba Aviation in the US and has been in the hands of Bolivian airline LAMIA since October 2013.
British Aerospace, which is now known as BAE Systems, says that the first 146 plane took off in 1981 and that just under 400 - including its successor Avro RJ - were built in total in the UK through November 2003. It says around 220 of them are still in service in a variety of roles, including aerial firefighting and overnight freight services.
The model is often used to land in hard-to-access airports and is increasingly used in firefighting duties. Because they can also take a steep approach to landing, the planes are able to use very short runways.
es, jbh, ls/msh (dpa, EFE, AP)