The recordings, obtained by several Colombian media outlets, appeared to show the plane was short on jet fuel before it crashed into the Andes early on Tuesday morning.
The pilot of the British-built jet could be heard repeatedly requesting permission to land due to a "total electric failure" and lack of fuel. But he did not declare an emergency.
A female controller could be heard giving instructions as the BAE 146 - made by BAE Systems Plc - lost speed and altitude about eight miles from the Medellin airport.
The recordings appeared to confirm the accounts of a surviving flight attendant and a pilot flying nearby, who overheard the frantic pleas from the doomed airliner.
Seventy-one people were killed, including players of the Chapecoense AF football club, who were en route to the biggest game in their history: the Copa Sudamericana final. The team was virtually wiped out in the crash.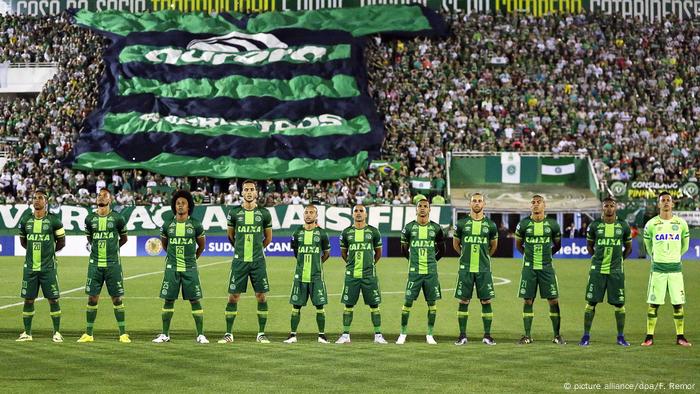 Nineteen Chapecoense players were killed in the crash; three survived
Only six on board the charter flight survived, including three of the Chapecoense players.
Colombian civil aviation director Alberto Bocanegra told RCN Radio that an empty fuel tank was one hypothesis being examined.
Bocanegra said investigators were reviewing the plane's flight recorders and the air traffic control voice recording. He said if the plane had run out of fuel, it would indicate an "act of negligence" by the pilot, who was responsible for ensuring fuel supplies were adequate for the trip.
Planes are required to have enough extra fuel on board to fly at least 30 to 45 minutes to another airport in the case of an emergency. Local media cited aviation experts as saying that the jet was flying at its maximum range.
Colombian media were the first to point out that the plane appeared not to have exploded or burned upon impact, suggesting a possible absence of fuel.
The airline director Gustavo Vargas told Bolivian television that the plane may have skipped a planned refueling stop in northern Bolivia because the airport was closed.
Soccer-mad Brazil declared three days of mourning following the crash, and fans, along with global soccer legends including Lionel Messi and Pele sent condolences.
mm/gsw (AP, dpa, Reuters)