LaMia airlines, based in Bolivia, has been held responsible for the accident which killed 71 people last month. The flight went down on November 29, shortly before landing in Medellin, Colombia.
"The evidence is conclusive: the direct responsibility of this event falls on the pilot and the airline company," Bolivian Public Works and Services Minister Milton Claros said at a press conference in the capital, La Paz, on Tuesday.
The pilot and co-owner of the airline, Miguel Quiroga, was one of those killed when the plane apparently ran out of fuel and crashed on a wooded hillside.
Last week, an attorney for the plane's co-pilot said Quiroga had not completed the training hours required to operate a commercial flight.
Claros said the crash was an "isolated" incident and did not mean it was unsafe to fly in Bolivia. However, a new aeronautical safety system would be implemented more quickly, he said.
Colombia's civil aviation safety chief has said the plane disregarded international rules on fuel reserves.
Players and officials of the Brazilian club Chapecoense were traveling on the charter flight operated by airline LaMia Bolivia to the biggest game in its history, the final of the Copa Sudamericana in Colombia on November 29.
Only six people survived the crash; 19 members of the Chapecoense team were among those who died.
Colombia and Brazil are to play a friendly match on January 25 at Rio de Janeiro's Engenhao stadium to raise funds for the victims of the crash.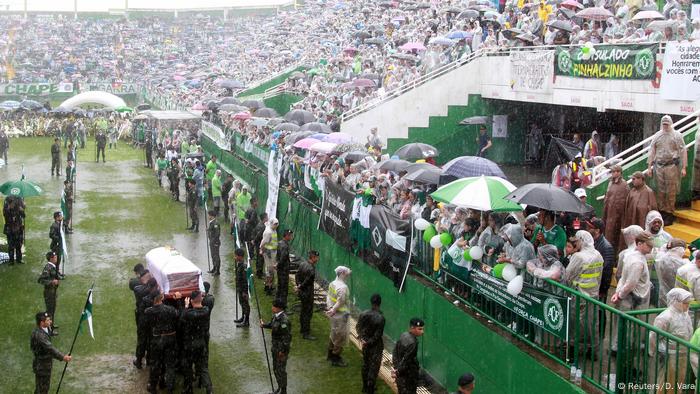 Fans in Brazil paid tribute as the coffin of one of the crash victims arrived in Chapeco
LaMia owners jailed
Gustavo Vargas Gamboa, LaMia's chief executive, was jailed pending trial earlier this month on manslaughter and other charges, which he has denied. His son, a former Bolivian aviation authority official, is also being held until trial. He faces charges of misusing his influence in authorizing the aircraft's license. He has also denied the charges.
LaMia co-owner Marco Antonio Rocha Benegas also faces criminal charges. His whereabouts are unknown.
Air traffic controller Celia Castedo, who fled Bolivia after the crash, is seeking asylum in Brazil claiming persecution. Bolivian minister Claros said she has "direct responsibility" for authorizing the flight and for notifying her superiors of the flight's problems one day after the accident via email.
The British Aerospace Avro RJ85, a variation on the BAe 146 aircraft, had been in service since 1999.
jm/cmk (Reuters, AFP)