South American football authorities awarded the league championship on Monday to an underdog team that lost most of its players in a deadly plane crash.
Nineteen players from Brazilian football club Chapecoense died in an air crash just outside Medellin, Colombia, that killed 71 people last week.They were en-route to the first leg of the 2016 Copa Sudamericana final with Colombia's Club Atletica Nacional.
The opposition team requested Chapecoense be awarded the trophy, along with the US$2 million prize money, "as a posthumous homage to the victims of the fatal crash that leaves our sport in mourning," the sport's South American governing body CONMEBOL said in a statement.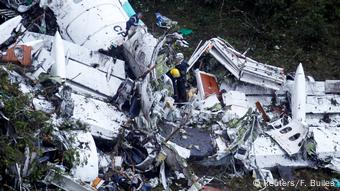 The crash killed 71 people after the plane ran out of fuel
The body council decided to honor Club Atletica Nacional request with all of the "sport and economic prerogatives that entails," the statement said.
It also awarded Club Atletico a one-time Fair Play award.
"There is no greater demonstration of the spirit of understanding and fair play ... than the consideration and respect shown by Atletico Nacional to its brothers in Chapecoense Football Club," the statement said.
Chapecoense had a fairytale rise before the crash,entering their first continental tournament just seven years after leaving the bottom-tier Serie D.
As new champions of Latin America's number 2 club tournament, Chapecoense would now automatically qualify for next season's Copa Libertadores, the continent's top tournament.
Chapecoense would also automatically play Atletico Nacional, the Libertadores champions, for the Recopa Sudamericana next year.
Chapecoesne would be likely to borrow players from other clubs for next year's season.
On Saturday 100,000 people gathered in a stadium in southern Brazil to mourn the tragedy.
Fifty-one players, coaches and other people associated with the team were killed in the disaster, when a BAe146 regional airliner operated by Bolivian charter company LaMia ran out of fuel and crashed into an Andean mountainside.
aw/rc (AFP, AP, Reuters)