I know nothing about soccer. Seriously, at best I can say that a team is made up of 11 players (is that correct?). The World Cup spirit isn't inside me and although I've read arguments that soccer provides the perfect platform for people to express national pride, my inner machinery hasn't managed to associate patriotic feelings with sports. Soccer just doesn't do it for me.
But that doesn't mean that I don't watch the matches. Berlin simply forces me to. I love this city and if I plan on interacting with it during World Cup, I must accept what it has to offer: soccer all over the place, whether you like it or not.
And in spite of my lack of enthusiasm for the sport, the only sort of patriotism that I ever feel is the local one. Again and again I discover how alive and creative Berlin can be; even during an event like the World Cup that I don't really believe in. Because, let's face it, in which other city do people bring their own sofas to a stadium to watch the game together? Yes, you heard right. I'll tell you more about this in a bit, but for now I must say that for me, soccer events are the new entertainment ideas in Berlin.
When patriotism is allowed
When everything is coloured in black, red and gold
A few days ago I was about to spend a quiet sunny afternoon with a cup of coffee and a good book. But after 10 minutes I gave up on the idea. Why? Well, Germany was about to play its very first World Cup match against Portugal. And I had no idea. You'd think that I would at least be informed about such a major event, but I wasn't. That's how little I care about soccer.
So while I was sitting there, quietly, my book and coffee in hand, horns were blowing on the streets and people passed me, chanting, waving flags and wearing funny outfits. It's exactly how you'd describe a city in football mode.
Since the 2006 Word Cup, which was hosted by Germany, public celebrations of soccer events have taken on a whole new level. That year basically marked the first time since the end of World War II that Germans would openly display national pride. I'm talking Germans proudly waving German flags, painted and dressed in black, red and gold and cheering for their country.
Ever since, they have been wearing wigs and T-shirts in their national colors and singing their anthem out loud during all major soccer events. I actually have the feeling that people ceremoniously prepare weeks in advance not so much for the games, but rather for some sort of time and space where they allow themselves the freedom of patriotric expression. It's a time in which all taboos and frustrations related to Germany's past disappear.
Soccer all day, every day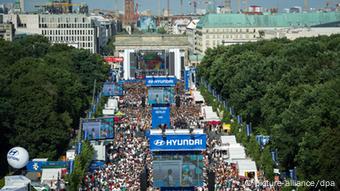 Soccer and beer go well together at the "Fanmeile" in Berlin
But let me get back to the impetus that triggers such euphoria: soccer's most celebrated tournament. Weeks before the World Cup in Brazil kicked off, Berlin had made sure to turn every corner of the city into a "public viewing" venue, meaning every bar and every restaurant put up big LCD screens and TVs they would later show the games on for everyone to watch.
And that's not all. During the entire event traffic closes down completely along the infamous "Fanmeile" (fan mile), a long boulevard leading up to the Brandenburg Gate from Berlin's victory column, where fans gather to watch the World Cup games together.
The "Fanmeile" has become the biggest public viewing spot in Germany, holding up to 100,000 football fans. Or simply people who enjoy having fun together and of course drinking a lot of beer. By the way, the German Brewers' Union already reported an increase in beer sales of up to 15 percent during this year's World Cup.
For a more Caribbean feeling, you can of course watch the games in one of the many beach bars in Berlin. That also means that because they all turn into public viewing venues, the rest of us can forget about dance nights or any other activities that do not involve soccer, at least until July 13, when the tournament ends. Besides, there are plenty of World Cup parties, dinners, you name it. It's clear: Berlin is in soccer fever. But as I said, we've been experiencing all of this every four years, since 2006, when Germany proudly hosted the World Cup.
You never know where Berlin might take you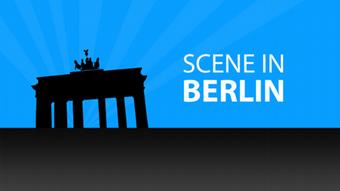 The icing on the cake, though, as I was to find out on the day I had planned to read my book in the sun while sipping a cup of coffee, is the newest mind-blowing flash of inspiration, which can only happen in Berlin: turning an entire soccer stadium into a giant living room.
FC Union Berlin, a soccer club in Germany's second division, invited fans to bring their own sofas to the stadium so that they can watch the World Cup games on a 700-inch LCD screen. And guess what? They did. There are now about 850 private sofas in the middle of Union Berlin's soccer stadium. How they got there, I don't know. I only know that instead of reading my intriguing book, I ended up watching Germany vs. Portugal together with some 12,000 people, next to a very nice family, kind enough to offer me a seat on their vintage couch.
They also brought their floor lamp, a few blankets and pillows, and of course beer and snacks, which we enjoyed under a perfectly clear evening sky. But while everyone around me was busy getting excited about Germany starting the World Cup tournament with an almost shocking 4-0 against Portugal, I spent my time observing the people around me and thinking about what a magical atmosphere it was, what a connection, what a great feeling of freedom. And above all, what an incredible city. I walked home that night grateful for living in Berlin - while still knowing nothing about soccer.