Hollywood's top awards ceremony had been broadcast in Hong Kong for over 50 years by free-to-air TVB on its English language channel. But this year, no channel will carry the show.
As Beijing cracks down further on artistic expression, doubts remain over whether the Oscars will air in mainland China either.
Chinese state broadcaster CCTV, which has previously shown the awards, has yet to confirm if it will carry this year's event.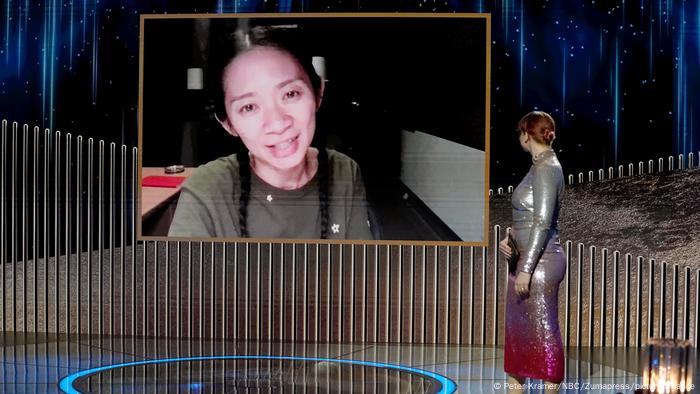 Chinese-born film director, Chloe Zhao's feature film "Nomadland" is favored to win big at this year's Oscars; past remarks of hers have upset Chinese censors
Why not show the Oscars?
Nominally, TVB said that its decision was a "purely commercial" one. But the decision not to broadcast the awards ceremony comes after Bloomberg News reported earlier this month that China's Communist Party propaganda department has ordered its state-controlled media to play down the awards and not show the ceremony live.
English language Hong Kong newspaper The Standard suggested that previously made comments critical of mainland China by Chloe Zhao, the Beijing-born American director of the Oscar-nominated film "Nomadland,'' could have prompted the move.
The nomination of a short documentary about the 2019 protests in Hong Kong "Do Not Split" may also have concerned Chinese authorities.
"Nomadland", which took top prizes at this year's Golden Globes awards is heavily favored to win big at the Oscars too.
Searches for the film's title were blocked on the Chinese internet, which is heavily censored. Content deemed politically sensitive by the government is routinely filtered and scrubbed.
The Academy of Motion Picture Arts and Sciences Awards, which presents the awards, had no comment.
Is Beijing restricting Hong Kong's art scene?
Though semi-autonomous Hong Kong retains greater cultural freedoms than mainland China, that is quickly changing.
Following huge and often violent democracy protests in 2019, Beijing is actively stamping out opposition.
In the last few weeks, cinemas have pulled a protest documentary, a university canceled a press photography exhibition and a yet-to-open contemporary art museum has said it will allow security officials to vet its collection.
Earlier this month, Hong Kong leader Carrie Lam said authorities were on "full alert'' to ensure that exhibitions in the city did not violate the new rules.
mb/msh (AP, AFP)
A previous version of this article stated that the Oscars will not be shown in Hong Kong for the first time in more than 60 years. It will be the first time in more than 50 years. We apologize for the error.