Up to 3,000 nationals of Central American countries have left the Honduran city of San Pedro Sula as part of a migrant caravan planning to walk to the United States.
The migrants, including families with young children, set out around 4 a.m. local time. The first goal is the Guatemalan border, some 260 kilometers (160 miles) away.
They follow a smaller group of some 300 people who set out on Thursday.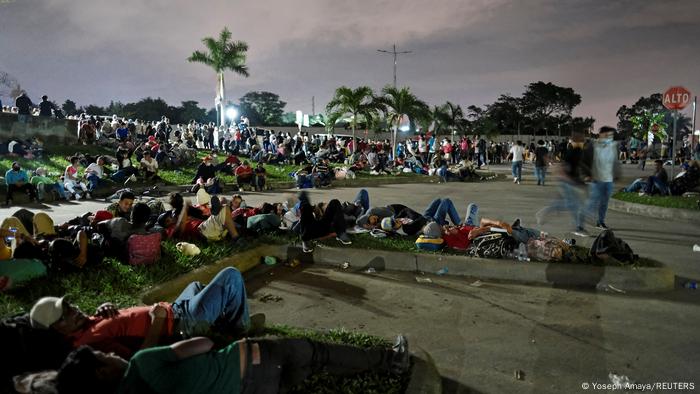 Hondurans rest outside a bus station before taking part in a new caravan of migrants
Why are migrants leaving?
The migrants say they are escaping poverty, unemployment, and gang and drug violence.
Some say they are suffering from the aftermath of two violent hurricanes that hit the country last November.
"The combination of COVID-19, social exclusion, violence and climate-related disasters that occur at the same time with a magnitude seldom seen before in Central America raises new humanitarian challenges,'' the International Committee for the Red Cross said in a statement Friday.
How has their journey been so far?
The migrants quickly dispersed along the heavily-trafficked highway to the border town of Agua Caliente. Some quickly caught rides while others walked along the highway escorted by police.
Police had checkpoints set up along the highway but were just asking for identification documents.
Some police with riot gear waited on buses at points along the highway, but they had made no move to stop the migrants.
State of emergency declared
Honduras' neighbor Guatemala — together with Mexico — has an agreement with the US to stop north-bound migratory flows.
On Thursday, it declared a state of emergency in seven departments as the amassing continued, to limit prevent demonstrations and to allow police to use force, if necessary.
The Guatemalan government's Immigration Institute said Friday afternoon that in the course of the day small groups of Honduran migrants had entered the country and about 600 people were voluntarily returned to Honduras.
Mexico also deployed agents to its southern border on Thursday.
The caravans will be the first of the year and set off less than a week before US President-elect Joe Biden takes office.
Biden, who is due to be inaugurated on Wednesday, has pledged a more humane approach to migration — a departure from outgoing President Donald Trump's hardline anti-immigrant policies.
The twice-impeached president has characterized immigrants from Mexico as "rapists" who were "bringing drugs" and other criminal activity with them to the US.
No money for COVID tests
If the group reaches the border this time, they will have to show negative tests for COVID-19 in order to pass, which would not be possible for most of them.
More than a dozen migrant caravans have set off from Honduras since October 2018 — at least four of them with 3,000 people each. But all have run up against thousands of US border guards and soldiers.
The Trump administration has since reached agreements with Guatemala, Honduras and El Salvador where migrants heading to the US must claim asylum in one of those countries.
Otherwise, they can be sent back when they reach the US border.
kmm, mm/rt (AFP, dpa, Reuters)