The said the number of people living in poverty in Germany rose from 19.7 percent in 2010 to 19.9 percent a year later. That equals about 16 million people in all - a shocking figure for one of the richest countries in the world.
The percentage is so high because poverty is measured according to a special calculation, said Ulrich Schneider, general manager of the German Association of Social Movements.
"The statistics are totally odd and, to a certain extent, the figures are artificially inflated," Schneider told DW, adding that it was important the figures surveyed still coincided with people's perception of their lives. "If you announce that 20 percent of the population in Germany are socially excluded, everyone will say, that is by no means consistent with their own reality."
Schneider is critical of the survey
The figures are skewed because they include people with a low income as well as people who have sufficient means but have not yet worked a lot, for instance students, Schneider said. Students have an income that is often 60 percent below the federal average - in the equation, they add to a particularly high level of poverty among 18 to 25-year olds.
"Everything gets added in, and these insanely high figures are the result," he said.
Social disadvantages
That said, Schneider agreed the situation is dramatic, in particular for recipients of "Hartz IV" welfare benefits: it is impossible for people reliant on the welfare payments to get by reasonably for an entire month, he said. Single parents currently receive monthly benefits of 374 euros ($484) in addition to the cost of rent and heating; a family of four receives 1,100 euros to 1,200 euros.
"We know that families with that kind of income, in big cities in particular, do not stand a chance of letting their children participate in society in any acceptable way," he said.
Poverty researchers said once people draw Hartz IV benefits, it is difficult to escape from that status. A "lack of prospects and long-term unemployment - this is definitely poverty," Schneider said, adding that is true for about 5 percent of people in Germany.
Students often face huge amounts of debt, Butterwegge warns
Christoph Butterwegge, a political scientist at Cologne University, took a positive view of the study on poverty in Europe. The focus is not on money, the researcher told DW, but on the consequences of unmet material needs.
"The study showed how poverty affects people," Butterwegge said. "What it means to be at a social disadvantage, not to be able to keep up, in extreme cases not to have enough to eat or to heat your flat, but also not to be able to go on a vacation like other people do."
The drastic figures showed this is not a fringe problem as many people are affected, even the well-educated, Butterwegge said, adding that includes students because "they apply for student loans and face huge debt after they graduate."
Poverty blocks the future
Not just the unemployed are affected by poverty, said Schneider. People who have a job but whose wages are too low, forcing the state to supplement their income with money for rent, food and heating costs also fall into the category of those affected by social exclusion. A low income has consequences, he said.
"It is not a luxury to buy a child a scoop of ice cream once a week in summer - but usually, that is something recipients of Hartz IV benefits cannot afford," he said, adding that they usually cannot buy Christmas presents or let their children participate in school excursions.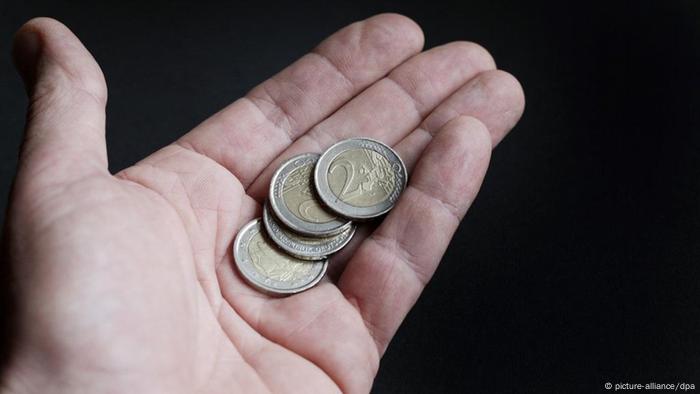 Not enough to participate in society
"When a class goes to see a play and a ticket costs 10 euros, the family cannot afford it and they'll say, the student is ill or a grandparent is visiting," Schneider said.
The economies of some of the other European countries are doing far worse than Germany, but Germany has an especially high level of poverty. Schneider said poverty figures from Spain, Greece, Portugal and Ireland are currently not very reliable because of the dramatic developments in these countries, but even taking that into account, the conclusion is clear.
Germany has survived the crisis quite well, he said. But when compared directly with other European nations, Germany always performs poorly.