Italian efforts to bring together Libya's rival factions and world leaders in Sicily for two days of talks in a bid to launch a political process to stabilize the North African country hit a snag Tuesday morning when one of the key players, strongman Khalifa Haftar, announced he would not attend official talks.
The Palermo conference intends to bolster UN efforts to hold a National Conference in early 2019, followed by elections and measures to advance economic and security reforms to unite the country.
For Rome, the gathering is viewed as crucial to exert influence over its former colony, which has been split between rival governments, overrun by militias, and beset by lawlessness that has turned Libya into a springboard for migrants reaching Europe, often landing in Italy.
"The Palermo conference is a fundamental step in the goal of stabilizing Libya and for the security of the entire Mediterranean," Italian Prime Minister Giuseppe Conte said last week.
At a summit in Paris in May, the Tripoli-based internationally recognized Government of National Accord (GNA) and eastern Libya strongman Khalifa Haftar had agreed to hold an election on December 10, but that date is now viewed as unrealistic.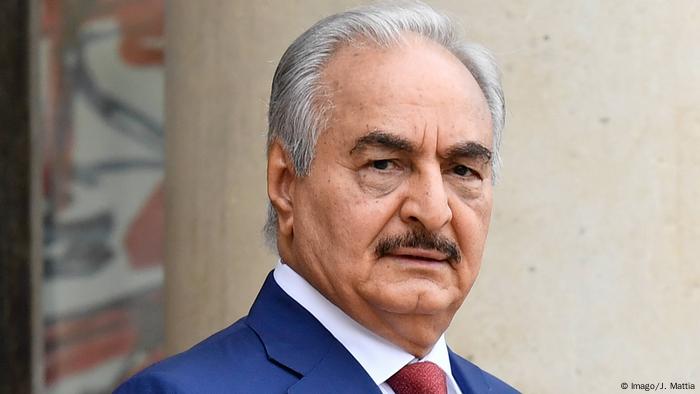 Khalifa Haftar
Haftar a key player
It was originally announced that the Sicily meeting would be attended by Haftar, as well as the eastern parliament's speaker, Aguila Salah, GNA head Fayez al-Sarraj and Khaled al-Mechri, speaker of a Tripoli-based upper chamber. However, it was unclear if the Tobruk- and Tripoli-based rivals would meet face to face.
On Tuesday, Haftar announced that he would not attend the conference, choosing to "hold a series of meetings with presidents of regional countries to discuss the latest national and international developments" on the sidelines instead. Haftar's forces control the entirety of northern Libya, yet the warlord refuses to meet with Islamist leaders in the region. His absence at official talks casts doubt on the effectiveness of the conference.
Haftar, who is viewed as crucial to any political progress, has proved to be something of a wild card. After questions about whether he would show up in Palermo, he arrived to briefly talk with Conte, but then opted not to attend a working dinner on Monday ahead of roundtable talks.
"Haftar already succeeding in making the Palermo conference about the importance of his role in any potential agreement in Libya going forward and reinforcing his position as the key actor in the Libyan crisis," said Mohamed ElJarh, CEO of research and consulting firm Libya Outlook.
International rivalries
About 20 countries are participating in the conference, including representatives from the US, European governments and Arab countries. Top names in attendance include Egyptian President Abdel-Fattah el-Sissi, Russian Prime Minister Dmitry Medvedev, European Council President Donald Tusk and EU foreign policy chief Federica Mogherini.
In addition to internal rivalries in Libya, analysts and diplomats say external powers are backing competing factions.
Russia, France, Egypt and the UAE support Haftar, who is an anti-Islamist military man, while Turkey, Qatar and Italy have backed Sarraj's GNA government.
Italy has supported the GNA and worked with militias to halt migrant flows to Europe from Libya, which have dropped dramatically over the past year.
Within the EU, France and Italy back different sides in Libya, and also compete for oil and gas interests in the OPEC country.
Libya descended into chaos following a NATO-led 2011 military intervention that ousted dictator Moammar Gadhafi.
js,cw/msh (AFP, AP, dpa, Reuters)