German politicians met in Berlin on Thursday (21.03.13) to discuss how to slow rising energy costs for consumers in the country. At the same time though, German renewable energy providers are seeing constant growth.
One of the main reasons electricity from renewable energy sources, or "green electricity" is gaining in popularity in Germany is because its cost is starting to come into line with traditional energy sources.
"Green electricity these days is just as expensive as electricity from traditional sources," says Thomas Svetec, branch manager from alternative energy provider Lichtblick in Koblenz. "The wind and the sun are not increasing in price. In contrast, resources like coal are getting increasingly scarce and therefore getting more expensive."
For many though, helping the environment is the main reason to make the change. Green electricity comes from wind, solar, biomass and hydro-electric sources.
Green isn't necessarily green
Germany's four biggest energy providers, RWE, E.ON, ENBW and Vattenfall do provide green electricity contracts to their customers. But these companies still make most of their money from nuclear or coal-powered power stations, and are less involved in the expansion of renewable energy sources.
Another four companies, considerably smaller in size, have managed to establish themselves on the German green energy market. Along with Lichtblick, EWS Schönau, Greenpeace Energy and Naturstrom don't just obtain their electricity from renewable sources, they also help develop further renewable energy sources.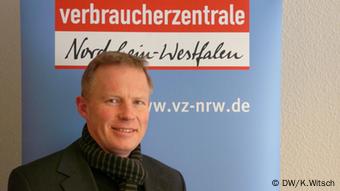 Sieverding says some consumers are still confused about transferring to green power
In a country that loves using certificates and quality badges to endorse its products, the potential for confusion amongst new green electricity consumers is high. Only two certificates truly guarantee that the power company consumers are buying from really invests in building new green energy sources: the Ok-Power badge, supported by the consumer association of North Rhine-Westphalia and the World Wildlife Fund, and the Grüner Strom label, approved by German environment organizations BUND and NABU.
Udo Sieverding is in charge of energy at the consumer association of North Rhine-Westphalia. "There is still no proper website for comparing green electricity products. I hope that the green energy market is soon pressured into making changes and improvements," he said.
Sieverding says many consumers would like to change to green electricity, but say that it's too complicated.
Lifting the green percentage
The paperwork associated with changing to a green energy contract in Germany is not as substantial as one might think. In most instances, after the consumer has sought out and signed their future contract, the new provider will take care of the rest.
And, by moving on to a contract with renewable energy, consumers are actually already shaping the energy market. The more consumers change to green power, the higher the percentage of renewable energy that is required inside the total German power grid.
Germany aims to have 35 percent of its electricity coming from renewable sources by 2020
At the moment the percentage of electricity on the German grid obtained from renewable energy sources sits at 25 percent.
Why the Germans?
The Scandinavian countries, Austria and Switzerland have always been forerunners in the renewable energy field. Now, Germany is also making a name for itself.
Some experts say the reason for the development is a general feeling from German consumers that they want to make a personal contribution to the environment.
"We don't find this sort of dynamic anywhere else in Europe. It seems to be unique to Germany," Sieverding told DW. "Perhaps it has its roots in the German environmental movement and the nuclear power discussion over the last few years."
Speaking to members of the public on the street in Bonn, it seems clear that the environment is the major consideration when a consumer changes to green electricity.
"I made the change because it's an easy way to make a contribution to climate protection," said Ann-Christin Kopp, a local, in discussion with DW. "You are doing something for the environment and for your conscience. I suppose you could say that my conscience is now green."