It was supposed to be another routine flight from Greece to Germany. But as the Aegean Airlines plane landed at Stuttgart airport, George Anastasopoulos sensed something was wrong.
The pilot had parked at a discernible distance from other commercial aircraft, and the boarding gate — used to connect the plane to the terminal — was missing.
Instead, passengers were herded onto a special bus that whisked them off to a secluded section of the sprawling airport.
"It was as if we were placed in some kind of bizarre quarantine," recalled Anastasopoulos, a Greek engineer and global traveler. "For the next hour or so, we were subjected to scrutinizing passport checks and controls that defied any measure of Europe's free-travel regulations. I felt unbelievably humiliated and debased."
He's not alone.
Schengen takes a wrong turn
Hailed by many as the greatest achievement of European integration, the Schengen agreement effectively abolished border controls between most European Union member states in 1985, allowing the area to function as a passport-free single country for all its travelers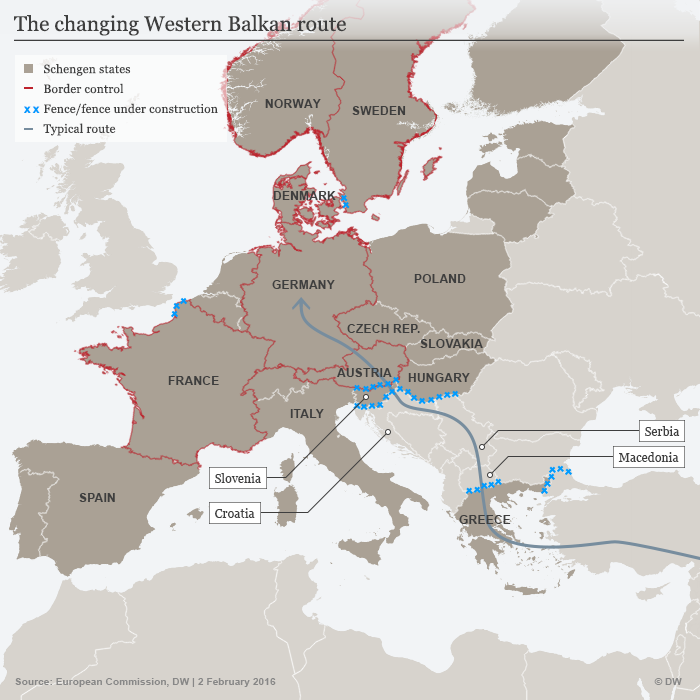 .
Read more: The risk of open borders
Europe's lingering refugee crisis and Islamist terrorism, however, have highlighted the system's limitations, prompting countries like Germany to clamp down on liberal admissions policies and barring incoming travelers from Greece from using the hassle-free Schengen travel lines.
Germany's Interior Ministry says the measures were enforced earlier this month after authorities there counted more than 1,000 illegal entries from Greece since the start of the year. They said security measures across the board were being beefed up amid fears of a terror attack during the holiday season.
Whatever the reason, Greeks are furious. Not only do they feel scapegoated but also humiliated by a country whose unyielding support for draconian fiscal measures has been widely blamed here for ruining the Greek economy.
Read more: Greece: reeling from austerity and a broken economy
"Germany's security concerns may be valid," Anastasopoulos told DW. "And the Greek government, also, may be responsible for its abysmal handling of the refugee crisis. But that does not justify unilateral action. It is as if the US state of Massachusetts orders all incoming US travelers from California to go through passport controls at foreign arrivals terminals because California is teeming with migrants."
Rattled by popular outrage, Greece's hard-left government of Alexis Tsipras has complained to Berlin.
Human trafficking triggers security concerns
The security concerns, though, are real and they are not only limited to Germany, experts insist.
With 60,000 refugees and asylum seekers stranded across the country, Greece has become a major hub for human trafficking. International criminal networks are also operating with impunity, producing fake passports and identification cards for stranded illegal migrants.
Just days before Germany enforced the new travel regulations, British agents helped Greek police smash a major Athens-based smuggling gang that operated four forgery laboratories, selling fake passports and work papers to migrants bound for the UK. Other clandestine operations have been busted throughout the year for smuggling thousands of illegal migrants from the Middle East to Italy, Spain and Germany.
Despite repeated crackdowns, the burgeoning trade remains ubiquitous in central Athens — so much so in fact, that illicit businesses freely circulate business cards among migrants desperately seeking passage to the heart of Europe and Germany, the preferred destination.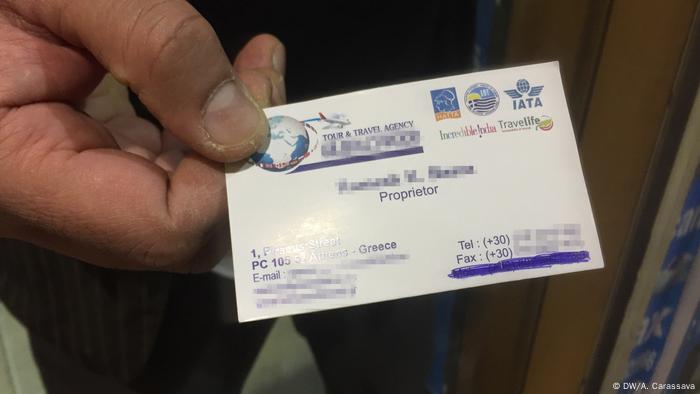 Illegal businesses have no qualms about enticing migrants to use their unscrupulous services
"They [fake passports and IDs] are everywhere," says Mohammed, a 27-year-old asylum seeker from Gaza. "The cheapest and most accessible ones are the French, Spanish and Italian. You [can] get them for as cheap as 250 euros and [they] are less suspicious for people like us, with dark complexions."
"The problem," he tells DW, taking a deep drag on his cigarette, "is luck. It's not good these days, especially at the airport."
Like three other Arab friends seated under the neon lights of a cafe in central Athens, Mohammed, is already feeling the brunt of Germany's heightened security checks. In the last month alone, he tried to sneak through passport controls in Athens, six times. His last attempt, he claims, flashing a fake French passport, was on Nov. 22.
"Before [then], it was much easier. The guys at the gates weren't [paying] close attention. Now it's too tough. So, we wait."
Fake passports in the wrong hands
Concern over the trade of fake travel documents has grown since 2016 when the European Union's counter-terrorism agency identified forged passports destined for alleged members of the "Islamic State" group in Greek refugee camps.
Last year, France offered to dispatch a special task force to Greece to assist in the identification of fake documents found in the hands of thousands of illegal migrants. While the government in Athens acknowledged the challenge for Greece's overstretched and underfunded authorities, it refused the request, trying to instead steer EU's attention to Turkey to block the inflow of illegal refugees and migrants.
Now, to placate angry travelers, Greek police officers will be deployed at German airports to assist in the contentious security checks.
Many Greeks, though, aren't taking any chances.
"It's the holidays," said Harry Kosmatos. "Who wants to miss their connecting flight? So, I just cancelled my flight through Munich, preferring to go to New York through Zurich."