Greek police on Tuesday began evacuating some 8,400 migrants camping near Greece's border with Macedonia.
A helicopter and some 20 riot police units comprising roughly 400 police officers are being used in the operation, officials reported.
Government spokesman Giorgos Kyritsis said police would not use force in relocating the camp's residents, a process which is expected to last at least a week.
"Those who pack their belongings will leave, because we want this issue over with. Ideally by the end of the week. We haven't put a strict deadline on it, but more or less that is what we estimate," Kyritsis told Reuters.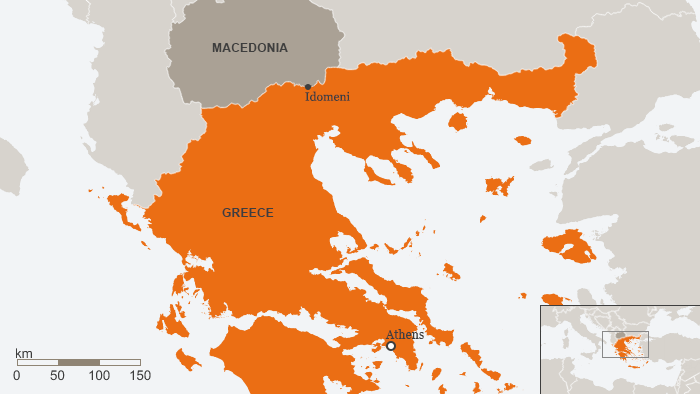 DW correspondents in Idomeni Oliver Sallet and Marianna Karakoulaki say police have blocked off the camp and ordered all journalists to leave the area.
Authorities said the migrants camping out there would gradually be moved to newly completed official shelters near the country's second largest city, Thessaloniki.
Trapped at the border
Idomeni became a flashpoint site for migration to Europe when Macedonia earlier this year shut its border to those wishing to transit through to wealthier European countries, including Germany and Sweden. The border closures left thousands trapped in Greece.
Nearly a million migrants have passed through the country, many of them arriving on boats from Turkey. Under a deal struck in March between Turkey and the European Union, irregular migrants who arrive on Greece's islands will be sent back to Turkey unless they successfully apply for asylum in Greece.
Previously, most migrants landing in debt-hit Greece held off on registering for asylum there, instead hoping to make their way through the Balkans to richer northern countries.
Squalid conditions
Most of Idomeni's migrants are from Syria, Afghanistan and Iraq, and have been living through the rainy winter in small tents pitched along railway tracks and in fields. The Greek government has for months been trying to persuade the camp's residents to relocate to organized camps.
Government officials said this week that some migrants had already chosen to leave the camp voluntarily, with eight buses carrying around 400 people out of Idomeni on Sunday. Authorities also said thousands of migrants had opted to move out of the tent camp in the port city of Piraeus.
ls,nm/kms (AP, dpa, AFP)