The Registration and Information Center (RIC) - the official name of the camp on Samos Island in the Eastern Aegean - is located in the green hills of a small paradise. Pythagorio, which owes its name to the Greek philosopher and mathematician Pythagoras, is just one example of a town in the south of the island that still enchants tourists with its winding, cobbled streets and its picturesque harbor.
In sharp contrast is the rubble-filled refugee camp, appearing like a foreign body embedded in the otherwise idyllic landscape. A former prison, the camp was originally laid out for 700 people, but currently houses 1,500 refugees, including 300 children. Most refugees in Samos come from Syria, Iraq, Afghanistan or Iran, but also from countries in sub-Saharan Africa like Congo-Kinshasa.
Read more: Violence becoming commonplace in Moria refugee camp
The Boat Refugee Foundation (BRF), a Dutch nongovernmental organization (NGO) with its headquarters in Utrecht, is one of several NGOs that provides support for the refugees and helps them adapt to their new environment. It started its mission on Samos with the distribution of dry clothes and water to incoming refugees in 2015. This was at a time when the arrival of people fleeing war and oppression from their homelands had reached a new peak. Due to changes in the political situation - the implementation of the EU-Turkey agreement and the closure of the Balkan route - the focus of BRF has changed from acute care to more structural and prolonged help.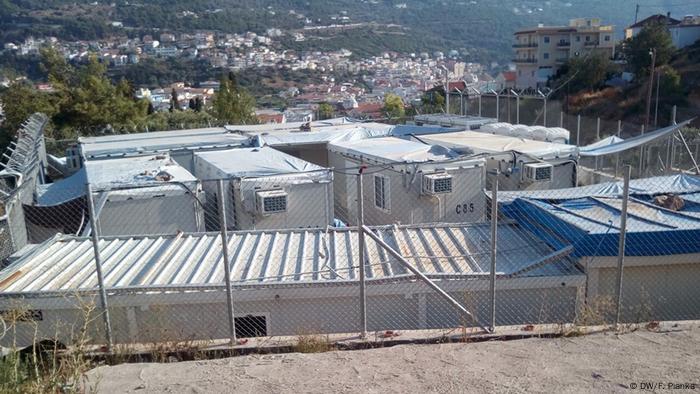 The RIC camp with the town of Samos in the background
Working for the most vulnerable
BRF's current mandate is centered on first aid and urgent medical care as well as the provision of food for the most vulnerable among the refugees: infants, children and adolescents. BRF staff also engages in interactions with children, including drawing, playing ballgames or watching a movie, hence providing some structure to the otherwise unreliable everyday life in the camp.
The small area that BRF occupies in the midst of dirt and rubble, tents and containers - surrounded by a barbed wire fence - consists of two basic, self-contained cabins and a small covered forecourt. It is the only place in the camp that offers some shade during temperatures that often exceed 35 degrees Celsius in summer. "This space has quickly become a symbol for emotional comfort, security and safety - a 'sanctuary' for everybody, independent of ethnicity, religion or age," says one of the organizations' volunteers from Germany, Raoul Müller.
'Helping is my habit'
The success of the NGOs on the ground is highly dependent on the commitment ofrefugee translators. "Without their support, we could not do our job," says Frederieke van Dongen, the central coordinator of the Boat Refugee Foundation on Samos. Because most of the refugees in the camp do not speak enough English, some young refugees have offered their support to translate from their native language into English.
Read more: Their last resort: refugees in Greece go on hunger strike
Apart from helping to surmount the obvious linguistic obstacles, the assistance of the refugee translators provides the only way "to understand cultural differences in a sensitive field such as medicine," remarks Annabel Jonkheijm, a young doctor from Rotterdam. Depending on where they come from, "patients describe their symptoms or the way they feel in a different way," Jonkheijm, who specializes in tropical medicine, continues. Some indicate dizziness as a physical symptom whereas others refer to a mental state of mind.
Refugees have painted some of the containers to bring some color to camp life
Rafee from Afghanistan, who recently received his asylum confirmation, agrees: "We are not only translators, but we are cultural mediators." His fellow translator Safi fled his native Mazar-i-Sharif, because he was seriously wounded in an attack by his girlfriend's family, who also threatened to kill him. He says that supporting his countrymen gives his stay in the camp some meaning. "Helping is my habit," he replies when asked why he spends his day translating from Farsi into English. Omar, who translates from Arabic, is also the Iraqi community representative in the camp. He fled Iraq after the "Islamic State" (IS) took over his home city of Mosul: "Even if I had to stay in the camp for the rest of my life, I don't want to go back to my country," Omar says, adding, "My friends and the translation work help me to forget my situation in the camp."
Volunteers as key for success
Another group of people that BRF urgently needs to carry out their tasks are volunteers. They can apply through the organization's website and the feedback is enormous. Among them are young doctors and nurses, who treat symptoms like hypothermia or dehydration. Other volunteers apply to become part of the psychosocial team (PSS), including social workers and teachers. Some volunteers come for two weeks; others take a sabbatical and stay for several months. They are all united in their wish to make a difference by offering their expertise.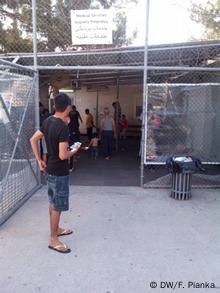 Refugees waiting to be treated at the BRF medial container
Louise Erdmann, a nurse from New York City, where she works at the UN school, describes her volunteering job in the camp as hard work, yet very rewarding. "I feel that I can give some privacy and decency to the refugees," Erdman says. She continues by pointing out that she sees "humanity is at its best in the worst of scenarios imaginable," referring to the great commitment of the volunteers and NGO staff, who work under extreme conditions.
Read more: Greece's hotel owners want tourists not refugees
One of her volunteer colleagues, Mohsin Rajput, born in Pakistan and now a Dutch national, has returned for the second time to Samos to work for the psychosocial team. "The work is very stressful, because of all the sad stories you hear every day, but it is also very satisfying," Rajput explains. When asked why he returned to work with BRF despite the omnipresent grievances, the 30-year-old refers to the overwhelming appreciation from the refugees: "People in the camp know that we are there to help them and their gratitude is immense. This is the main drive for me."