The island of Lesbos in the Northern Aegean Sea gained notoriety last year as the main entrance to Europe, when thousands of refugees arrived daily from Turkey. One year later the situation is different; although the refugee flow has not stopped, it is remarkably lower with only a few hundred refugees crossing weekly.
Yet the island is overcrowded. The EU-Turkey deal has turned it into a floating detention center in which thousands are trapped facing an uncertain future. While the utmost capacity of the island is 3,500 people, the latest statistics released by the Greek authorities put the number of people at around 5,700. The mayor of Mytilini, Spyros Galinos, says that figure is a conservative estimate.
Demonstrations and clashes among refugees are not uncommon. This is what happened on Sunday as a hunger strike at the former reception center of Moria - that now resembles more of a detention facility - turned violent and triggered a fire that burned down 60 percent of the camp's facilities.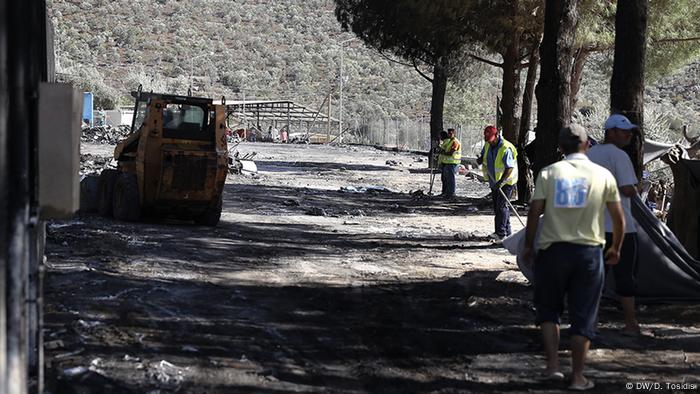 The fire destroyed countless tents used by the refugees many of whom had to sleep in the open
No one is certain how the fire started, or by whom. Some refugees claim it was by accident, some are blaming refugees from Afghanistan, while others imply that right-wing extremists started the fire from an olive tree field at the back of the camp. Everyone agrees though that the clashes started when some refugees decided to no longer participate in the hunger strike.
Disaster waiting to happen
"Everyone at the camp, all nationalities, started a hunger strike yesterday because the asylum officers deny asylum to everyone. At some point a fight erupted between Afghan and African refugees but in the end everyone participated. I don't know for certain who started the fire but most say refugees from Afghanistan started it," Sohail, a 44-year-old doctor from Pakistan, told DW.
"I am 100 percent sure that Afghans started the fire, I saw it with my own eyes. We were sitting in our tents and then we saw the fire. We started running," a 28-year-old refugee from Eritrea, who wished to remain anonymous, told DW.
According to other refugees, Greek police fired teargas during the clashes, but when the fire started they did not intervene.
"I was looking at the clashes from afar, I didn't fight, I was trying to protect myself but a rock hit me on the head," says Rashid an 18-year-old refugee from Ghana. "Now I don't know where I will sleep at night, my tent was burnt down but I have no idea if they will give us new tents, I did give them my name and my tent's name, but I might have to sleep under a bush." he said.
Warzone
While journalists were initially denied access to the center, lawyers representing some of the refugees were allowed to enter.
"The authorities were very polite and let us get inside without the usual trouble," Ariel Ricker, a lawyer and founder of Advocates Abroad, an NGO that provides free legal assistance to refugees, told DW.
"What I saw, however, reminded me of images of a warzone. Two hundred refugees were at the front gate, at the back of the camp there was fire in several places. Many refugees were seriously injured; I started giving first aid as there was no one in sight - at that point we were the only ones. The severity of the wounds was incredible. There was one guy who had such a serious split on his head and he had what I thought was a pink bandage, but when I unwrapped it the blood started streaming down his face," she continued.
Hundreds of people were forced to sleep outside the camp while the Greek government provided ferries which will be used as extra accommodation for those that were left without a place to live.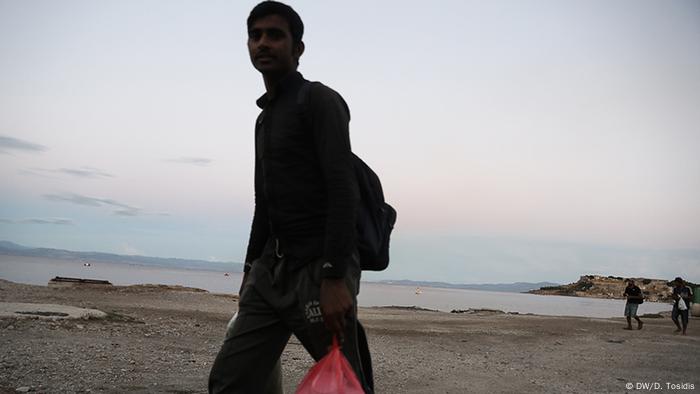 Anger and frustration have been building for months on Lesbos
The EU-Turkey deal which was signed in order to stop the refugee flow to Europe has created an unprecedented situation for the island of Lesbos and the local authorities are increasingly worried as tensions remain high and right-wing extremists are actively targeting refugees.
From the frying pan into the fire
What will happen to those stranded on Lesbos is unclear. The refugees who live inside Moria have no idea - some of them have been there for seven months. Once someone crosses the Aegean Sea they are detained by the Greek and European authorities and are not allowed to exit the detention facilities for 25 days.
Currently only refugees from Syria who arrived between March 2015 and March this year are eligible for relocation or reunification and even some of those may be returned to Turkey if Turkey is deemed as a safe country for them. The rest can apply for political asylum in Greece, return to their homelands via the International Organization for Migration programme for voluntary returns, return to Turkey as part of the EU-Turkey agreement or be returned to their country by the authorities.
For many none of those options are exactly appealing.
"I will try to go to Athens illegally. This is the only option I have. Some have entered ferries illegally, it's a risk, there is a rumor that eight people died of asphyxiation but others have managed to arrive. If I go to Athens I think I will be fine and I will be able to move on," an 18-year-old refugee from Ghana told DW.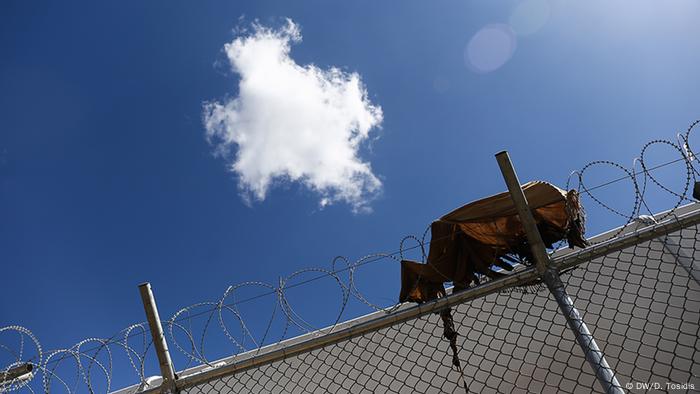 Regardless of whether they stay or leave, for most refugees the future remains uncertain
What he doesn't know is that even if he goes to Athens he will not be able to cross the borders and - if arrested - he would be held at one of the detention centers on the mainland. This sort of misinformation among those who live in Moria is a common feature.
For Mayor Spyros Galinos the solution is simple enough. "The current climate on Lesbos makes the island vulnerable to any provocation from any side. The fire for example outside of the camp could have been started by anyone. The solution, however, is very simple; refugees stuck on the island should be distributed equally in several municipalities in Greece and Europe," he told DW.