Controversial data storage legislation sought by Chancellor Angela Merkel's grand coalition government was given approval on Saturday by her junior partner, the center-left Social Democrats (SPD), despite some members' data privacy concerns.
Delegates at a SPD convention in Berlin voted 124 in favor and 88 against after SPD party chairman Sigmar Gabriel, who also serves as German economics minister and vice chancellor, argued for adoption of legislation drafted by Justice Minister Heiko Maas, also of the SPD (pictured left with Gabriel).
Seven delegates abstained.
Gabriel, whose SPD leadership was tested by the vote, argued: "There is no freedom without security, and there is no security without freedom."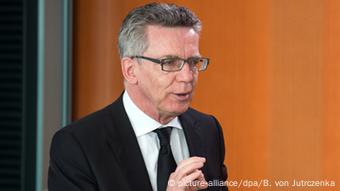 De Maizere agreed to SPD demands for some privacy safeguards
The resolution included one amendment that would require an independent expert panel to appraise the law after its introduction but before 2018. Gabriel told SPD delegates that German Interior Minister Thomas de Maiziere, a member of Merkel's Christian Democratic Union, agreed to the provision.
Turned into law by September
Mass said he expected parliamentary passage of a data retention law in September.
Among SPD delegates who opposed Maas' proposal, Johanna Uekermann, who heads the SPD's federal youth wing, said the draft law amounted to a "disproportionate intrusion into citizens' fundamental rights."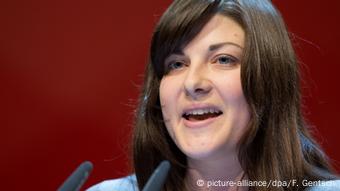 SPD youth leader Uekermann opposed the draft law
She added, however: "We accept the decision of the convention."
For weeks the legislative package has been hotly debated within Merkel's coalition government, especially due to data privacy concerns.
Second bid
This is the second legislative attempt by German federal authorities to introduce data protection regulations. Previous data-retention provisions were invalidated by the EU's top court.
Maas' package would require telecommunications concerns to store telephone and Internet connection data for 10 weeks. Information collected would include the telephone numbers used, the moment and duration of each call and the Internet IP addresses accessed. Investigators would be allowed access only in cases concerning serious crimes and after receiving a judge's approval.
Location details from mobile phones would be stored for four weeks. Emails would be excluded from the data storage provision.
Discussion in recent weeks has been extensive in Germany. On Saturday, the activist group Campact placed a giant spy telescope outside the SPD venue, calling "no to transparent citizens" and "my data belongs to me."
ipj/sms (AFP, dpa, Reuters)