In order to prevent the advance of Islamic extremists, Germany and France want to deploy a West African task force of 5,000 troops in the Sahel region. Germany's Minister of Defense, Ursula von der Leyen (CDU), reaffirmed this goal during her trip to West Africa. The trip was partly undertaken in conjunction with her French counterpart, Florence Parly.
The region needs to "build up its own security" over the long term, she said during her last stop, Mali's capital, Bamako. The day before, in Niger's capital, Niamey, the defense ministers visited a future headquarters for police and military personnel from the so-called G5 Sahel countries: Niger, Mali, Mauritania, Burkina Faso and Chad. In 2014, the five countries agreed on a common goal of fighting Islamic terror groups, supported by Germany and France. For Europe it is important, von der Leyen said, that security in Africa prevails and that people have a reason to want to stay in their home countries.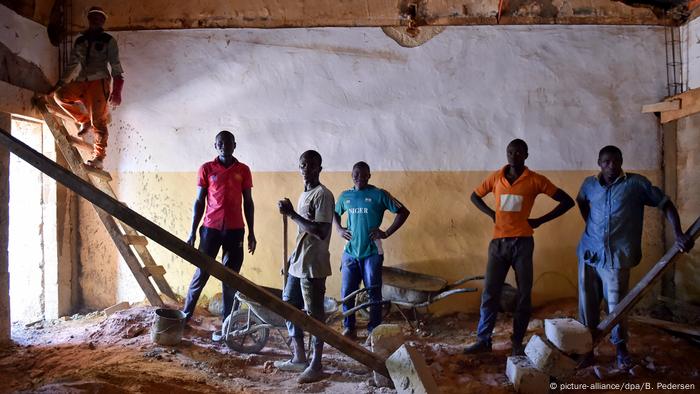 Workers build the future headquarters for the new task force in Niger's capital, Niamey
Regional security conference in Berlin
Islamist militias, quasi-affiliated with al Qaeda, are the region's most daunting security problem. They are active in northern Mali and in border regions, from where they can plan and launch attacks in Europe, experts say. Currently, they regularly attack members of the region's UN peacekeeping force, Minusma, which has been deployed to stabilize Mali.
France and Germany want to host a meeting in Berlin in September to bring more countries on board to help train and equip local forces. Spain and Italy have expressed interest in such a mission. Representatives of the UN will be attending, as well as the European Union, which has put forward 50 million euros ($59 million) to support the mission.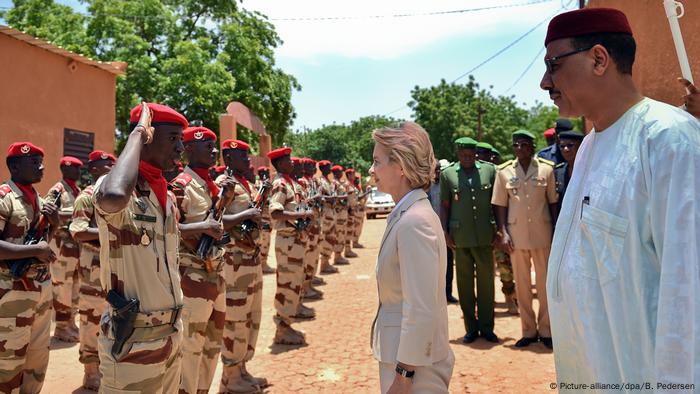 Germany's defense minister in Niamey, Niger
Self defense
The most sustainable security situation, von der Leyen said on Monday in Niamey, would be one "where countries were able to provide for their own security and stability, and combat terrorism and organized crime." Her French counterpart echoed this sentiment in support of a West African expeditionary force. France has 4,000 soldiers in the region.
After a 2012 coup northern Mali fell into the hands of Islamists and other rebel groups. French intervention was required to wrest back control. The UN mission, Minusma, to which Germany contributes about 900 soldiers, now monitors the implementation of the peace treaty between the government and rebels. EUTM, an EU training mission, is responsible for bringing Mali's forces up to speed.
Vehicles and phones for Niger
Niger has become central to the smuggling of West African migrants to Europe. As part of Germany's bilateral assistance to stop migrant trafficking, von der Leyen's trip brought with it 100 flatbed trucks, 115 motorcycles and 55 satellite phones for use by the country's army and police. As many as 200,000 migrants pass through the Niger every year on their way to North Africa, the defense minister said in a meeting with Niger's president, Mahamadou Issoufou, and most are trafficked. "Many lose their lives along the way," she said.
The German military maintains a base in Niamey, which it uses to support operations in Mali.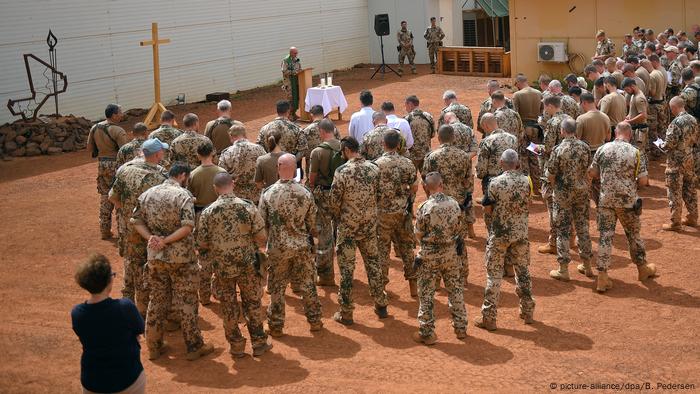 A memorial service was held for the two German soldiers who were killed in the helicopter crash
Memorial service for pilots
Von der Leyen began her West Africa trip in Gao, in northern Mali. There, two German pilots were killed on Wednesday when their Tiger helicopter crashed. "It is a heavy loss," she said during a memorial service at the German military's Camp Castor, where she also met with the pilots' fellow soldiers.
The cause of the crash remains unclear, and there is no evidence it came under hostile fire. The pilots were trained and experienced. Aviation experts are investigating the crash site and found the helicopter's flight recorders, though they are considerably damaged. Some are questioning the use of the Tiger in Mali, which may not be suitable for such hot conditions.