"Dear God, please give my father the strength to die and protect my son in Afghanistan."
"May everyone who suffers from cancer have God on their side."
"Thank you for this man at my side."
The sentiments expressed in the prayer request books at chapels along the German autobahn provide a glimpse into the German soul. Some express gratitude, while others focus on fears, illnesses, catastrophes or career worries.
A community is growing from the visitors who seek a break from driving in the churches along German highways.
"This church is like a tent, like a safe room where I am protected from everything," 19-year-old Katharina (not her real name) said, after visiting a highway church in the Siegerland region of North Rhine-Westphalia. "I come here whenever I have worries," she said.
Read more:
ECJ opinion sides against Austria over German autobahn toll
Gerhard Sauer, who lives nearby, appreciates the evening prayer services. "I sometimes come here alone," he said, "but I really like the short prayer services."
The Siegerland highway church first opened its doors in 2013. Some 2,000 believers come here each month. Together, they have already filled 11 prayer request books.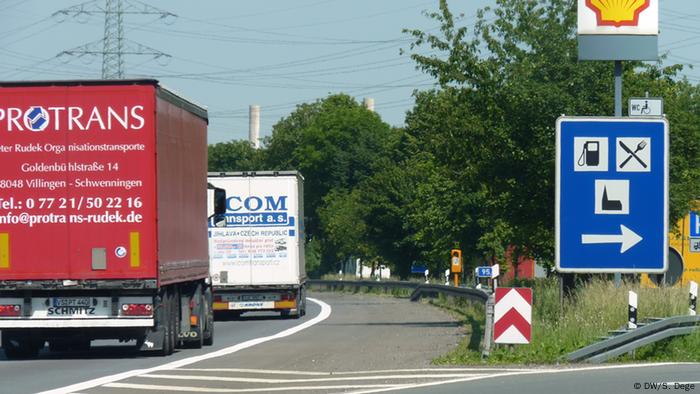 Gas, food ... glory?
Contemplative worshippers
Judging by these books, Germans tend to record their fears and what they are thankful for, said Ute Pohl, who heads the Siegerland highway church support group. "People tend to be contemplative," she said.
Many visitors study the prayer records with great interest and occasionally add thoughts of their own. Alessia, whose boyfriend broke up with her, often comes to a motorway church near Cologne to write down her feelings.
She wants her boyfriend to come back to her. And pens a note to God: "Dear God, today I wanted to come here with positive feelings, but can you please make Stefan believe in our relationship again?"
Read more: German government rules out autobahn speed limit
Holy Ghost's help
Pohl is familiar with notes concerning relationships. "People who write these requests are hoping to be heard," she said. "Let's hope the holy ghost will come to their aid," she added.
About 1 million people per year visit motorway churches. The very first church of this kind was inaugurated in 1958 near Augsburg, Bavaria. Meanwhile, Germany boats 47 places of worship along the motorway. And such churches can also be found in Austria and Switzerland.
There is no central authority planning the construction of such churches. Instead, this is a grassroots process lead by citizens, associations and local church congregations. As was the case for the motorway church in the Siegerland region.
A study by the Catholic University of Applied Sciences Freiburg found that most worshippers spend no more than five to 10 minutes at motorway churches, and that most were already members of congregations, older than 50, married and residents of Germany.
Winding down roadside
The study found that worshippers appreciate the anonymity of roadside churches. And that those who had pulled in once to pray tended to do so again. Most did not even mind the absence of a priest. In fact, they tended to enjoy the solitude, light a candle and quietly pray.
Herbert (not his real name) is a trucker and often goes to motorway churches. At least twice a week he puts in a quick stop at the Protestant roadside church near the city of Wiesbaden. He says it helps him "wind down."
"A friend taught me to light candles in church in honor of friends and fellow citizens," he said. After a moment of silence, he added that, although he is no longer in touch with her, the ritual has stuck with him.
At 1830 UTC, DW's editors send out a selection of news and features. Sign up to receive it here.